Lukashenka discussed constitutional reform in KGB prison with Babaryka, Shkliarou, Ulasava, and Badzej
278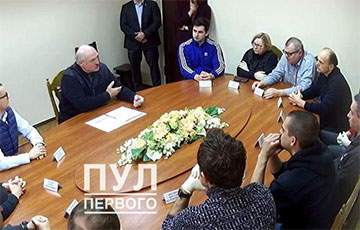 All of Belarus should go to the March tomorrow.
Aliaksandr Lukashenka visited the KGB pre-trial detention center this morning. Tut.by writes about this with reference to Lukashenka's press service. There he met with political prisoners, including Viktar and Eduard Babaryka and Lilia Ulasava.
It is reported that Lushenka "spent this morning in the KGB pre-trial detention center."
"You can't write a constitution on the street." These are the words of the president to the members of the so-called coordinating council and the joint headquarters, his press service said. "There he (Lukashenka - ed. note) for four and a half hours talked with the aforementioned representatives who are in the pre-trial detention center. The president's goal is to hear the opinions of everyone. However, the content of the conversation was kept secret by the participants. And that is not all".
Judging by the photo, the meeting was attended by Viktar and Eduard Babaryka, lawyer, member of the Coordination Council Lilia Ulasava, businessman Yury Vaskrasenski, political strategist Vital Shkliarou. Apparently, the meeting was also attended by Kiryl Badzej, who before his arrest held the position of acting Chairman of the Board of Belgazprombank.
It should be noted that some of the political prisoners recognized by human rights defenders, including Viktar Babaryka, are in the KGB pre-trial detention center. Earlier on October 7, the Central District Court upheld the decision to extend Viktar Babaryka's term of detention in force.
let us remind you that the three main demands of the protesters in Belarus are the release of political prisoners, Lukashenka's resignation, and holding new elections. Tomorrow, the whole of Belarus should go to the March of Pride, which will take place at 14:00.