Sviatlana Tiskhanouskaya Presented an Ultimatum to Lukashenka
188
13.10.2020, 14:55

149,037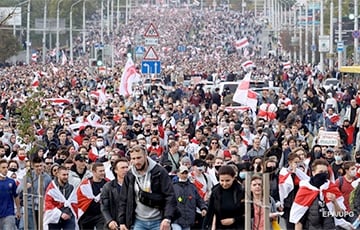 The government must fulfill three conditions.
Sviatlana Tiskhanouskaya announced an ultimatum to Lukashenka, reports the Basta! Telegram channel:
"Two months ago, we woke up like on a normal weekend and went to vote. And we all voted for change. Our last regular weekend was two months ago. We took to the streets to get our votes back, and we got bullets, truncheons, prison cells, and the regime's cynical lies instead. They ask us during the strikes: "Did you want a change?" They tell us: "Here's a change."
We will answer: this is not a change. You have always imprisoned us, and now you have begun to imprison even more. You have always intimidated us, and now you have become even more intimidating. You have always hit men, and now you are hitting women, children, and elderly people. Don't try to pass it off as dialogue. This is state terror. And everyone who has not yet decided to go over to the side of the people is an accomplice of terror. Declare publicly that you no longer support the regime. Contact us through funds, letters, or even acquaintances. If you do not do this, it means that our grandparents are beaten with your hands. It was because of you that they were threatened with weapons yesterday, perhaps, for the first time since their terrible wartime childhood.
We have said many times that we are ready for dialogue and negotiations. But talking behind bars is not dialogue. Beating up your people after declaring their readiness to negotiate is not a dialogue. Lukashenka is killing his future and trying to drag down governmental officials, security officials, and the entire Belarusian people. But we will not allow this.
Two months of political crisis, violence, and lawlessness have passed - and we've had enough. On October 25, we announce the People's Ultimatum.
The regime has 13 days to fulfill three prerequisites:
1. Lukashenka must announce his resignation.
2. Street violence must stop completely.
3. All political prisoners must be released.
If our demands are not met by October 25, the whole country will peacefully take to the streets with the People's Ultimatum. And on October 26, a national strike of all enterprises will begin, blocking of all roads, a collapse of sales in state stores. You have 13 days to fulfill three conditions. We have 13 days to prepare, and during this time, Belarusians will continue their peaceful and persistent protest.
You are trying to paralyze the life of our country, not realizing that Belarus is stronger than the regime. Since you were waiting for an order, here is an order. And the deadline for its execution is until October 25."