Tsikhanouskaya Stood in the Coupling
Iryna Khalip
15.10.2020, 15:33

2,296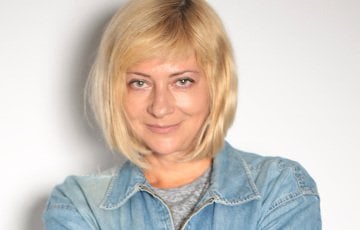 The main thing in her ultimatum is the very fact of its appearance.
After a telephone conversation with her arrested husband, Sviatlana Tsikhanouskaya was silent for exactly three days. With the permission of Lukashenka, her husband called her on Saturday. On Sunday, AMAP and "tsikhary" ("the quiet men") beat the demonstrators in a way they had not beaten since August 10. On Monday, they used gas and stun grenades to disperse elderly Minskers who had come out to the March of Pensioners (the March of Pensioners was held for the second time and promises to become traditional, like Sunday marches). And on Tuesday, Sviatlana Tsikhanouskaya presented an ultimatum to Aliaksandr Lukashenka:
"Two months ago, we woke up like on a normal weekend and went to vote. And we all voted for change. Our last regular weekend was two months ago. We took to the streets to get our votes back, and we got bullets, truncheons, prison cells, and the regime's cynical lies instead. They ask us during the strikes: "Did you want a change?" They tell us: "Here's a change."
We will answer: this is not a change.
You have always imprisoned us, and now you have begun to imprison even more. You have always intimidated us, and now you have become even more intimidating. You have always hit men, and now you are hitting women, children, and elderly people. Don't try to pass it off as dialogue. This is state terror. And everyone who has not yet decided to go over to the side of the people is an accomplice of terror. Declare publicly that you no longer support the regime. Contact us through funds, letters, or even acquaintances. If you do not do this, it means that our grandparents are beaten with your hands. It was because of you that they were threatened with weapons yesterday, perhaps, for the first time since their terrible wartime childhood.
We have said many times that we are ready for dialogue and negotiations. But talking behind bars is not dialogue. Beating up your people after declaring their readiness to negotiate is not a dialogue. Lukashenka is killing his future and trying to drag down governmental officials, security officials, and the entire Belarusian people. But we will not allow this.
Two months of political crisis, violence, and lawlessness have passed - and we've had enough. On October 25, we announce the People's Ultimatum.
The regime has 13 days to fulfill three prerequisites:
Lukashenka must announce his resignation.
Street violence must stop completely.
All political prisoners must be released.
If our demands are not met by October 25, the whole country will peacefully take to the streets with the People's Ultimatum. And on October 26, a national strike of all enterprises will begin, blocking of all roads, a collapse of sales in state stores. You have 13 days to fulfill three conditions. We have 13 days to prepare, and during this time, Belarusians will continue their peaceful and persistent protest.
You are trying to paralyze the life of our country, not realizing that Belarus is stronger than the regime. Since you were waiting for an order, here is an order. And the deadline for its execution is until October 25."
This is completely different rhetoric and even a different vocabulary. For two months, Sviatlana tried to slip between the raindrops, stubbornly avoided the word "strike," in every possible way distanced herself from protest actions, urged the West not to impose economic sanctions (despite the fact that the majority of Belarusians have long been in favor of imposing sanctions), and seriously talked about dialogue as a means of peaceful transfer of power. Her husband's call changed a lot.
The information that Siarhei Tsikhanouski was being "pressed" in prison had long been seeping through the evasive phrases of the lawyers who had been bound by the signature on non-disclosure. And on Monday, it became known that Tsikhanouski was still present at Lukashenka's Saturday meeting in the KGB jail. But he did not get into the frame: he categorically did not want to be filmed by Belarusian television for their own propaganda purposes.
Tsikhanouski was the only one present who did not shake Lukashenka's hand. The rest of them did it, but Tsikhanouski refused.
His lawyer Viktar Matskevich, who visited his client in the pre-trial detention center on Monday, said that Tsikhanouski refused to shake Lukashenka's hand in connection with the coronavirus pandemic. But we understand what it costs - under any circumstances and any epidemiological situation - not to shake the hand extended by the person on whom it depends whether you get out of prison or not.
According to the lawyer, during the meeting, Lukashenka made Tsikhanouski understand that he would not be released from prison in the near future and that "the fate of the prisoners will be decided by the investigation and the court, and everything is under control." On the other hand, Lukashenka generously allowed Siarhei, who has been in jail for five months, to call his wife. Under the watchful eye of the guards, Tsikhanouski called. Sviatlana herself posted a part of the conversation on the Web. So, the main thing that her husband said to her is: "You must act tougher." We can now say for sure that his wife fulfilled Siarhei's request one hundred percent and even more.
If a person, after meeting with the tyrant who imprisoned him, instead of "let's wait, we were promised a dialogue and peaceful changes" asks for tough actions, this only means that they have created absolutely unbearable conditions in the detention center and that there was no longer any hope of soon release.
The one who put in prison and who could release both Tsikhanouski and all the other political prisoners with one word or even a gesture, instead of releasing, gave them a mocking gift: on Sunday, all the participants in the Saturday meeting were taken out of prison to one of the city baths where an additional washing day was arranged. But everyone learned about it all - both about the threats of a long imprisonment for Tsikhanouski and about the washing day as a generous gift for participating in the "dialogue" - on Monday evening, after the lawyers met with their clients. At the same time, AMAP officers were spraying gas into pensioners. And, in this terrible context, it would be simply immoral to continue talking about dialogue. Sviatlana Tsikhanouskaya did what her husband Siarhei would surely want.
Yes, now you can talk as much as you like about utopianism and that it won't work. Nobody knows today what will work or will be useless tomorrow. The events of the last two months in Belarus are the best illustration of this. As soon as political scientists start talking about the inevitable weakening of protests, twice as many people go to the next march than the previous one. It is worth talking about the fact that Lukashenka changed his tactics and will create, at least, the illusion of reforms and dialogue, and beatings and detentions in the city become the same as two months ago. It is worth noting that Tsikhanouskaya is weak and incapable of making harsh statements, the way she makes the ultimatum.
Yes, a general strike in August seemed unlikely. At first, workers in most Belarusian enterprises wrote petitions demanding fair elections, stopped work, created strike committees, and then quickly returned to their old way of life.
But after a two-month campaign of civil disobedience, nothing seems unlikely. The Belarusians have already learned how to block roads. Now they do it in the evenings in their districts: they block roads and burn tires. So, anything is possible.
And the last stage of the revolution on October 26 is not necessary at all. This may happen earlier or later. This is not the main thing in Sviatlana Tsikhanouskaya's ultimatum, but the fact that she, at last, stood in the coupling with the Belarusians.
Iryna Khalip, Novaya Gazeta