The Miner Who Chained Himself: I Don't Want to Pay Taxes to Support This Regime
6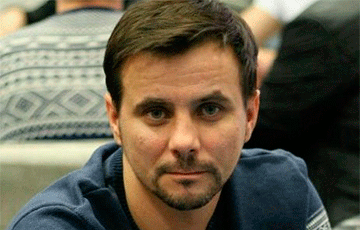 Aliaksandr Kurban spoke about what prompted him to protest.
"The last boiling point is that tear gas is being sprayed into elderly people," says the miner of Belaruskali Aliaksandr Kurban. "How can you raise your hand against our mothers, our grandmothers? How can we move on? What can we talk about further?" Today, after a night shift, he refused to rise to the surface until his demands were met. The man was lifted to the surface in about half an hour. His work permit has already been blocked, and he joined the strike. The man told why he decided to take such a step, what he thinks about the situation in the country, and how he sees further actions of the workers, tut.by writes.
Aliaksandr took a photo in the mine. He sealed his mouth with duct tape. They say that black and white stripes mean that in life, after the black stripe, the white one will certainly come, so you need to believe in the best.
"The pension electorate has already gone to the streets, so what to talk about?" About why he stayed in the mine
Aliaksandr Kurban is 42 years old; he has been working at Belaruskali since 1998. The miner tells why he decided to stay in the mine today and put forward demands to the management of the enterprise and the country:
"It was my decision," I made it myself. The last boiling point was the fact that tear gas was sprayed at elderly people with a grenade or a firecracker thrown at them (on the March of Pensioners in Minsk on October 12, special means were used, similar to firecrackers or a flash-noise grenade. - ed.)," says Aliaksandr. "How can a hand be raised against our mothers, our grandmothers? Where is it written in the law that special means can be used against a person who is not dangerous? Well, were the pensioners a threat? Of course not. And what do they (the authorities - ed.) want? They only want to make more people angry. The pension electorate has already gone to the streets, so what to talk about? What's next?
The miner's requirements can be divided into two blocks — the first concerns the situation at the enterprise, the second - the situation in the country. If we talk about the second block, the man turned to the general director of Belaruskali as a senator of the Minsk region so that he conveyed the position of the labor collective to the country's top leadership. "Namely: to appoint new and fair elections, to release all political prisoners, to stop beating civilians," the list of demands says.
"This is indignation to the core. I'm sure the elections were rigged. I don't know from my entourage who would vote for Aliaksandr Ryhoravich. Even my retired mom, who voted for him for many years, said this year that she would not vote for him. And what is happening to the peaceful citizens of Belarus is the most severe beating, breaking the psyche. There are a lot of children who began to be afraid of people in uniform. And it's not just distrust, it's fear. If something happens, they will not go to them because of fear. There is no one to go to now. Now ordinary citizens of Belarus are left powerless, useless."
"Before, I could afford a lot for my salary." About earnings
Among Aliaksandr's demands to the management of the enterprise is to raise wages to a level corresponding to the severity and danger of working conditions, to provide workers with safe and suitable tools to carry out their duties, to stop pressure on workers and the independent trade union, and to cancel the decision to fire those who are in a strike committee.
Talking about salaries at the enterprise, Aliaksandr notes:
"In 2008, my wife and I were building an apartment. A square meter of housing then cost about $ 280, and I received a salary of $ 1,000. For my salary, I could build about three square meters, says Aliaksandr. - Now a square meter is more expensive, and my salary is less than $ 1,000. And gasoline has risen in price, and food. If earlier I could afford a lot for my salary, get enough food, save money for holidays, and have some for other needs, now this money is enough to feed the family in general. So I believe that miners' wages have fallen, the working conditions are getting worse, and the norms for ore production are only growing."
The miner also advocates that the enterprise should "provide workers with safe and suitable tools."
"Why should I buy a dust- and water-resistant mechanical watch, if I am required to have it according to the instructions? And it costs a lot. I bought a whistle at my own expense, which I need to give signals so that people hear and know that blasting operations are being carried out in underground conditions in order to protect them," says Aliaksandr. "Other guys, I know, bought sets of keys, hoses, personal protective equipment. They are "on the bargain:" if they do not fulfill the plan, they will receive less money."
"I don't want to pay taxes to support this regime." About the fear that "lives in people"
In August of this year, Aliaksandr, along with some other workers went out to the central square of Salihorsk, was also at a meeting with the leadership of the city and the ROVD.
"I asked at a meeting with the leadership of the district department of internal affairs what budget they have for the year. They didn't answer: it's classified information. He asked how many people were in the Salihorsk District Department of Internal Affairs, how many people received money from the budget. Received no response."
Aliaksandr explains that he did not join the strike in August and September because he was initially against a spontaneous strike.
"It was not prepared. If only then each mine remained in its place, so that the members of the strike committee would conduct daily conversations, explaining this and that, so that information would reach all workers. Before this situation, many people were apolitical; they were not interested in politics. And here, many signatures were put. But what to do next, people did not know.
The fact that many employees do not openly express their position about the situation at the enterprise and in the country as a whole, according to Aliaksandr, is also due to the fear that "lives in people."
"Many have credits; they took loans for real estate and cars. A person is afraid of losing his job, fears that he will not find another job after having worked in the mine for 20-25 years. And if they get fired, then they must start living anew. Fear lives in people. I overcame this fear in myself.
Aliaksandr himself says that he thought about the financial consequences of coming to work but is ready to learn something new.
"I don't want to pay taxes to support this regime. I do not want to feed this government with my taxes. So that for my taxes, for my 20-year labor in the mine, they would beat me on the shoulders with truncheons. Or my friends or relatives.
Aliaksandr believes that the current situation in the country could be resolved through dialogue.
"In this situation, it's only dialogue, not violence. But they do not want to conduct a dialogue with us. I believe that anyone who does not want to feed this power can join the strike. And then, the power will not be fed. And Belaruskali gives it "food." It is necessary to convey information to people. A peaceful dialogue is needed. Then something will budge. We all have children, we are not looking at today, but at tomorrow, the day after tomorrow. I do not want for my children and me to emigrate somewhere. I want us to live here, not to flee to a foreign land, but to give birth to children and raise grandchildren here."