Revolutionary Yards Recorded Video About People's Ultimatum To Lukashenka
3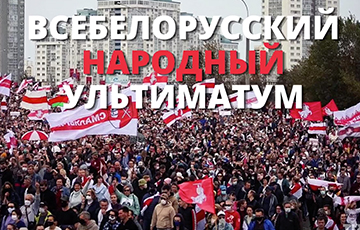 The authorities must meet three requirements.
Revolutionary yards have recorded a video about the All-Belarusian People's Ultimatum. The video was published by the Basta! telegram channel.
The authorities must fulfill three demands: Lukashenka's resignation, end of violence in the streets, release of all political prisoners.
Otherwise, since October 26 revolutionary yards announce a total boycott to this power.
We remind that earlier Sviatlana Tsikhanouskaya announced an ultimatum to Lukashenka. Its demands:
1. Lukashenka must announce his resignation.
2. The violence in the streets must be stopped completely.
3. All political prisoners must be released.
The deadline of ultimatum expires on October 25.