Mikola Kazlou - to the Ministry of Internal Affairs Staff: You Can't Hide Under Balaclavas for a Long Time
43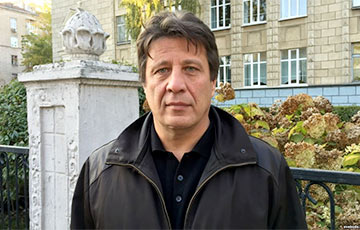 Changes in Belarus are inevitable.
The acting Chairman of the United Civil Party Mikola Kazlou spoke about this in an interview with Free News Plus.
- These days, a lot is said about the events in Kyrgyzstan. Can they be projected on Belarus?
- Of course, we want everything faster like in this distant Central Asian republic.
Changes in Belarus are inevitable, they will be, but one important circumstance must be taken into account. The vertical, although in the minority (I can say this for sure), has rallied and is very aggressive. Power structures are too. It's evident by the lawlessness they staged in the streets. I know and believe the conversations that they are now paid much more than usual. In order to significantly increase the real payment, it is not necessary to increase the salary. There are a lot of other ways - bonuses, allowances, overtime.
As for Kyrgyzstan, we have completely different situations. There have been three revolutions, and about five presidents have already switched.
In Kyrgyzstan, the story is completely different: the confrontation between the south and the north, different clans. The security forces there are almost indifferent about who runs the country. Ours are told that their well-being depends entirely on one person.
A significant part of the security forces went very far in their lawlessness, atrocities, and unwillingness to initiate criminal cases, although they are obliged to initiate them under any conditions due to a fact, not against a specific violator of the law.
It is not necessary to create any commissions. It's that simple: open a case, find, punish.
"They counting on something, right?"
- Honestly, I do not understand.
What, for example, can an investigator who conducts the "Tikhanouski's case" count on when everyone saw a gross provocation?
And the former Attorney General Kaniuk? He also saw everything and knows well who the prosecutor's office should protect.
Violent retention of power is a gross violation of the law, and they will have to answer for it. The security forces are well aware that Lukashenka did not win this election. They can't help but understand this.
- Do those hiding behind balaclavas understand this too?
- The vast majority.
- But after all, when it's all over, will there be an investigation?
- Of course.
I worked as an operational officer in the criminal investigation for 17 years. The bandit I caught and proved his guilt never complained about me. He went to prison, and I went to catch criminals. Everyone got what they deserve.
Here the situation is different. And they know it.
When an innocent person is taken and beaten in a pre-trial detention center or sent to Akrestsina, where he is also mocked, it remains a scar for his life. The man wants justice - to punish the law enforcement officer who himself became a bandit.
Balaklava can save only from neighbors, acquaintances, and classmates not to obstruct right now when an AMAP officer beats a girl, teenager, pensioner, or just a passerby. Balaclava is needed, so nobody starts poking their fingers and disgracing their children and wives immediately. It is impossible to hide behind it for a long time. Everything is known about everyone.