Lukashenka Cannot Be Trusted
28
Natallia Radzina
21.10.2020, 18:09

46,117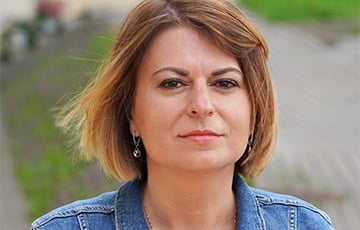 The situation with the release of some political prisoners is reminiscent of 2010-2011.
Political scientist Vitaly Shklyarov, released from the pre-trial detention center in Minsk after a conversation with Aliaksandr Lukashenka, refused to communicate with journalists. Other recently released political prisoners also remain silent, except for Yury Vaskresenski, who criticizes the Belarusian opposition in an interview with local media. The interlocutors of the Russian service Voice of America, who went through the torture chambers of the Belarusian KGB, told what leverage Lukashenka's regime uses to force the dissenters to either keep silent or cooperate with the special services.
Political analyst Vitaly Shklyarov, arrested in Belarus, on whose release U.S. Secretary of State Mike Pompeo, as well as human rights activists and representatives of the professional community, insisted, was transferred under recognizance not to leave.
This was announced by lawyer Anton Hashinski, who published a photo of a joint run with Vitaly Shklyarov on social networks on Tuesday. The political scientist does not plan to give any comments for the media yet, Hashinski stressed. "He took a break. He was given the opportunity to take care of his mother, who is now undergoing chemotherapy after an oncological operation," said the lawyer.
He explained that changing the preventive measure to recognizance not to leave means that Shklyarov is prohibited from leaving the country. The political scientist is still involved in the criminal case. "Our plan of action is to get all charges dropped," the lawyer said.
"Shklyarov was a bargaining chip for Lukashenka, but he did not expect that the political scientist's case would cause such a stir in the United States and Russia. However, the release of Shklyarov will not release Lukashenka from responsibility for what he does: as they say, we will not forget, we will not forgive," said Russian opposition politician Dmitry Gudkov.
Let us remind you that Shklyarov and six other political prisoners, including 67-year-old representative of the Coordination Council of the opposition of Belarus Lilia Ulasova, were released from the pre-trial detention center shortly after meeting with Aliaksandr Lukashenka. At the meeting, which his opponents compared to negotiations between a terrorist and hostages, he offered the political prisoners joint work on the reform of the Constitution of Belarus.
According to Belarusian media, half of the participants in the meeting with Lukashenka, including one of the leaders of the opposition in Belarus, Siarhei Tsikhanouski, ex-presidential candidate Viktar Babaryka, his son, and other political prisoners, remain in custody.
Sources of the Russian service Voice of America, familiar with the content of the meeting, said that Tsikhanouski and Babaryka are supporters of a hard line in relations with Lukashenka.
Tsikhanouski shouted at Lukashenka
During the meeting, Siarhei Tsikhanouski talked with Lukashenka in a raised voice, ex-political prisoner Yury Vaskresenski told tut.by in an interview.
After the interview, Vaskresenski was accused of implementing a scenario developed by the KGB of Belarus.
The editor-in-chief of the independent Internet portal Charter-97, Natallia Radzina, a former political prisoner, explained to Voice of America how Belarus's special services operate.
"This situation with the release of some political prisoners reminds me very much of 2010-2011, when the presidential candidates of Belarus, the protesters, and myself, also ended up in prison," Radzina recalls.
After Lukashenka began to release some political prisoners, a number of them were offered release on preferential terms: in exchange for cooperation with the KGB, says Radzina.
"There are testimonies from people where they said that they were released on the basis that they signed papers on cooperation with the KGB. This obliged them to meet with intelligence officers, to answer their questions, says Radzina. "Moreover, a few more people made some appeals from the TV screen, where they slandered other political prisoners, announced attempts to organize state coup, and spread other lies that were written for them by the KGB. The same thing is happening now."
According to Radzina, after Vaskresenski's interview about "wise Lukashenka," there were suggestions that he had signed documents on cooperation with the KGB even before his arrest, or was introduced into the opposition as an agent.
"Others, like Lilia Ulasova, are under house arrest and cannot comment on the media. The same is with Shklyarov, who cannot leave the country and reunite with his family. The task of the regime is to silence people," emphasizes Natallia Radzina.
"Not a single word of Lukashenka can be trusted"
Russian opposition politician Ilya Ponomarev said that Aliaksandr Lukashenka "is pursuing a policy of holding hostages," which is clearly seen in the example of Vitaly Shklyarov's forced silence. "Vitaly is still inside the country, which allows him to be returned to the pre-trial detention center at any time," the politician says.
According to Ponomarev, Lukashenka needs to win over the opposition to carry out a constitutional reform, which he promised to Vladimir Putin, which is why he started negotiations with political prisoners and changed the measure of restraint for some of them.
Natallia Radzina stressed that not a single word of Lukashenka can be trusted: "He is simply bargaining with the West, as he is afraid of new sanctions. And there are still hundreds of political prisoners in prisons."
"These are not only Viktar Babaryka and Siarhei Tsikhanouski, who certainly need to be released, but also Mikalai Statkevich and Pavel Seviarynets, as well as many famous Belarusian bloggers such as Siarhei Piatrukhin, Andrei Kabanau, Ihar Losik, Dzmitry Kazlou, and many others who have done a lot for the Belarusian revolution," said Radzina.
The opposition of Belarus promises "nationwide strike"
Let us remind you that the date of the "People's Ultimatum," which ex-presidential candidate Sviatlana Tsikhanouskaya announced to Lukashenka, expires on October 25.
Tsikhanouskaya demanded Lukashenka's resignation from the post of President of Belarus, stop violence against protesters, and release all political prisoners. If these requirements are not met, then, according to the opposition, from October 26, "a national strike of all enterprises will begin, all roads will be blocked, and sales in state stores will collapse."
It should be reminded that protests against the results of the presidential elections in Belarus have been going on since August 9. The U.S. and the European Union called the election results falsified.