Belarusian Banks Are Rapidly Losing Currency
21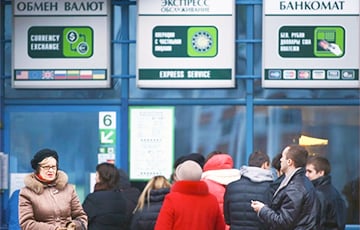 Individuals took $ 1 billion from their accounts.
Belarusian banks are raising rates on foreign currency deposits of the population against the background of the outflow of foreign currency from individuals, who in September withdrew $ 469.6 million from their deposits, and more than $ 1 billion in two months, the Belrynok website reports.
"Since the beginning of the year, the rate of new deposits for up to one year has increased almost threefold and reached 0.9% per annum. Back in August, this rate was 0.74%. A similar rate on deposits for a term longer than a year increased in September to 1.75% per annum from 1.58% in August and 1.24% in January this year," the site writes.
In addition, the interest on foreign currency deposits of legal entities is also growing. In particular, the average rate on new deposits of legal entities for up to one year in September increased to 1.5% from 1.21% per annum in August and 1.01% in January this year. At the same time, a similar rate on long-term deposits amounted to 1.13% per annum in September against 0.73% in August and 1.07% in January.
According to the National Bank, as of August 1, individuals had $ 7.102 billion in accounts, and by October 1, this amount had decreased to $ 6.008. In August, Belarusians took $ 624 million from their accounts, and in September another about $ 470 million. As for accounts in national currency, as of August 1, individuals had 3.371 billion on card accounts and current accounts, and as of October 1, the amount decreased to 2.757 billion Belarusian rubles. During this period, the Belarusians withdrew 613 million Belarusian rubles, but in September, the volume of rubles in current accounts nevertheless began to grow after banks raised rates on ruble deposits.