Is Lukashenka Afraid Of Ceausescu's Fate?
115
23.10.2020, 11:52

181,390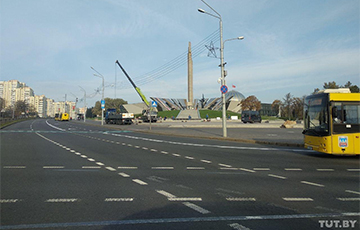 A rally in support of the dictator in Minsk has gone down the drain.
The Sunday rally in Minsk in support of Lukashenka has gone down the drain.
The event has been officially cancelled, Nasha Niva reports.
Minsk residents drew attention to the dismantling of the scenes near the stele "Minsk - Hero City" and near Government House. On October 25 these places were supposed to become the main sites of gathering people for the events supporting the incumbent authorities.
But the rally will not take place: the coronavirus has allegedly interfered - this is the official reason. Actually, the probable reason is mass refusal of people to participate in the pro-governmental meeting. There has been a lot of evidence of this in the labor collectives. The cancellation of the rally in favor of Lukashenka is another tactical victory of the daily protests in Belarus.
The rally could also have been cancelled for Lukashenka's fear of repeating the fate of the Romanian dictator Ceausescu. There has been a lot of evidence in the social networks that the public sector workers brought to the rally could start a demonstration against the usurper.
We remind that there have already been such cases in history. The rally on December 21, 1989 was the last one for the Romanian dictator Ceausescu, although it was organized by the authorities to support him. At the rally, Ceausescu managed to say only a few words before his voice sank in the shouting of the demonstrators. Mocking whistling and hisses rose from all parts of the crowd, followed by shouts 'Down!' and 'Rat!'. The rally ended with a revolution, which led to the overthrow and execution of the dictator.