Political Observer: Naryshkin Passed Lukashenka 'Black Mark' From Putin
12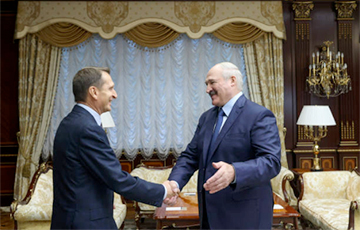 Now the usurper, more than ever, is weak and dependent.
The constitutional "reform" was, apparently, one of the important topics at the meeting of Lukashenka with the director of the Russian Foreign Intelligence Service Sergei Naryshkin, who unexpectedly flew to Minsk on October 22. Although this does not seem to be his profile, political observer Aliaksandr Klaskouski writes in his Telegram channel.
"So what could have been Naryshkin's main mission?
When he conveyed regards to Lukashenka from Putin, whom he met before leaving for Minsk, it sounded very significant. Maybe this is not a black mark yet, but for sure it is a serious reminder that the owner of the Kremlin remembers well all the promises that his sworn Belarusian friend made at a difficult moment for him," the analyst writes.
"According to analysts, Moscow, under disguise of a constitutional reform, wants to smoothly move the Belarusian ruler away from the levers of power ...
Now Lukashenka is as weak as never before, he is more dependent on Moscow than ever," Aliaksandr Klaskouski said.