Lech Wałęsa: I Want Belarusians to Succeed
11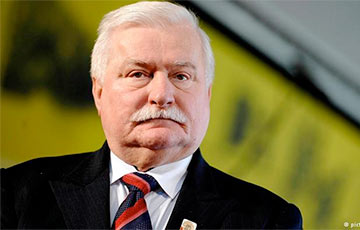 The first president of Poland gave parting words to the workers who are on strike in Belarus.
On October 26, the head of the MTZ strike committee, Siarhei Dyleuski, met in Gdansk with Lech Wałęsa, the first president of Poland. The meeting with the leader who defeated communism coincided with the beginning of the popular strike in Belarus. In Lech Wałęsa's office, issues of workers' trade unions and the morale of the strikers were discussed. Siarhei Dyleuski asked questions, Lech Wałęsa shared his own experience in managing the strike committee in the 1980s, reports Polskie Radio.
Lech Wałęsa supports Belarusians, admires their courage, and wishes them success. The first president of Poland expressed his readiness to help Belarusians in all ways while emphasizing the fact that the main work is now taking place inside Belarus. "Those who find themselves abroad must provide financial support and logistics, but your main hope is in the human resources that continue to struggle within the country. I really want Belarusians to succeed," Lech Wałęsa said. He added that Belarusians should be prepared for the regime to interfere with the strike in all possible ways, but people should not be afraid of this. It is the workers' strikes that bring the people's victory over the regime closer.
"The struggle of workers for their rights in Poland was very long and difficult; it stretched out for years. We hope to cope faster," said Siarhei Dyleuski. The former head of the Minsk Tractor Plant strike committee and a member of the Presidium of the Coordination Council left Belarus due to fears for his own safety. Prior to this, Dyleuski served a 25-day arrest. On October 11, the MTZ management forced him to resign, threatening to deprive his parents, who also work at MTZ, of their jobs. Siarhei Dyleuski worked at MTZ for 12 years in total.
"We are not allowed in Belarus to register independent trade unions," said Siarhei. Lech Wałęsa replied: "But don't pay attention to this; the work of the regime is to create difficulties for you. It is not the registration of a trade union on paper that is important; the people themselves are important.
Before heading the Solidarity union, Lech Wałęsa was an electrician at the Gdańsk shipyard. In 1983 he received the Nobel Peace Prize, and in 1990 became the first President of Poland, having served in this post for five years. Solidarity contributed to the overthrow of the communist regime in Poland, so the workers of the Gdansk shipyard, 40 years later, are remembered and revered all over the world as heroes. After Lech Wałęsa, four presidents have been replaced in the Republic of Poland.