Coach-Administrator Left Hockey Club Dynama in Protest
3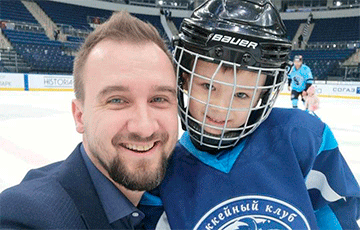 Andrei Markovich said that he is a free man with his own opinion.
The sports department administrator (coach-administrator) of Dynama Minsk, Andrei Markovich, left the team, where he worked for ten years in various positions with a short break. Previously, he was responsible for the club's work with fans, was the head of the fan club, and the team's head, tut.by writes.
"More than ten years at HC Dynama are going down in history. These years were interesting, different, they became a big part of my life. I am grateful for this experience, grateful to hockey for teaching me how to be a team player and fight to the end. I fought, I worked honestly and gave myself to this club without a trace, and in recent months I have been working for the team, the hockey team, to which I have been and will remain devoted. During these ten years, I have met many wonderful people here, professionals, who are as addicted to hockey as I am. There were others, but we do not remember them.
I was fired, "of my own volition." My favorite job was taken away, but I got my voice and freedom back! Now freedom is more valuable than gold!
I love my country with all my heart, our Belarus, and now I can breathe it deeply; it is wonderful and deserves more, its people are great and strong, and I will always be with them side by side. I do not deny a single word of mine. I am a free person with my own opinion. I embrace with all my heart those who were with me, who thought with me in the same direction in hockey and life.
I go into the open field, with a clear head, with a clear conscience, and open to everything new. So if I'm useful to anyone, I'm always in touch.
I wish good luck to this team and wish that soon we could all regain our voice and freedom," Andrei Markovich wrote on his Facebook page, attaching a photo of the statement addressed to the club's general director Ihar Shunevich.