Lukashenka About Shooting March At Arlouskaya Street: That Was My Order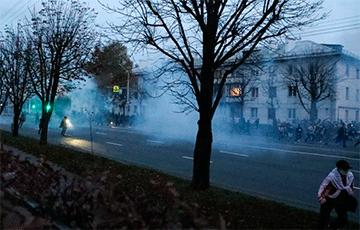 Dictator's confessions for The Hague.
Aliaksandr Lukashenka has commented on the actions of chasteners when dispersing protests in Minsk on Sunday, October 25, Nasha Niva reports.
"We were not the initiators. You saw what happened last Sunday. No TV picture, they were walking and walking around Minsk. The aim was to get to the center, but they were not allowed to enter it. The nightfall - they went to the police departments. They went, which was the worst, to the sleeping quarters. It was dark and the people got scared. Someone went outside with the children at seven o'clock. Is it normal when a crowd of drunk, mad, drugged, smoked hundreds of people rushed to these districts?
What did the police have to do? It was my order to keep people safe. They started to open the apartments, rushed to these apartments. We had to get these drug users out of the apartments. It is not normal, it is intolerable, Valeryj. That is why we start to work", - Lukashenka demanded, addressing head of the Security Council Vakulchyk.
On October 25, up to 200 thousand people took to the streets of Minsk. The march was peaceful and there were no incidents. Only at the very end, when several thousand people remained in one of the columns, they used light-noise grenades to disperse it. People in Arlouskaya street were hiding the demonstrators in their apartments. The case, when Karayeu's fascists broke into one of the apartments and beat up the men with batons, got on video and caused a great resonance.