Grodno Azot Strike Committee: Authorities Create an Emergency at the Plant on Strike
36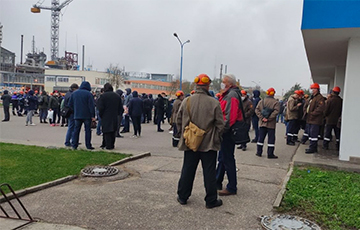 The work involves strikebreakers who have no access to the production process.
Grodno Azot Strike Committee share on its telegram-channel the new details of the strike at the enterprise:
- Ammonia-3 shop has 4 out of 8 operators in the shift. The role of shift supervisor plays unrelated to this work engineer and technical worker.
If any "surprise" happens in the process and the operation of Ammonia-3 will stop. Also, the process is carried out with violations of the norms of technological regulations. One can stop production without technological personnel in different ways. The management might have forgotten the tragedy in the Lithuanian city of Jonava in mid-August. Is Lukashenka's chair worth more than the city residents?
The workplace in the workshop Cyclohexanone-2 is left unattended today. One sent a person from another production phase to stay there and turn on the alkali drip feed pump hourly. Unfortunately, the management has no time to think about safety at Grodno Azot. Who will be responsible in case of an emergency? Isn't the management afraid?