Doctor Aliaksei Nosau: Belarusian Doctors Are Already Collecting Materials for the Hague
26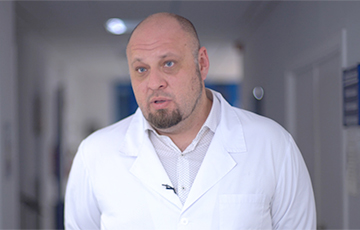 Sooner or later, the house of cards of the usurper's power will fall.
Lukashenka ordered not to allow doctors who left for Poland to enter Belarus.
How did those Belarusian doctors who went abroad reacted to Lukashenka's words?
Aliaksei Nosau, a traumatologist who works in Valencia, told about this on the air of the CurrentTime.
- How did you and your colleagues react to Lukashenka's words that doctors who will leave and help in other countries to fight the coronavirus will not be allowed back into the country?
- How can you react to this message? The man said since he needed to react somehow, and there were no adequate words, so he said what he said. This is complete nonsense, because people who go there to work, and I don't think they will rush back, run and beg on their knees to be accepted, - no. They will leave - and they will leave. And what he said now turns even more doctors away from what is happening in the Republic of Belarus.
I'm not saying that it's right when the brain is drained, no. Quite the opposite, I really would not like to lose excellent personnel, because the best ones will leave. You must understand this. Diagnosis and treatment will be greatly affected. Moreover, the main thing will suffer - health. And neutral people who don't say anything - your health will also suffer, and the health of your children will suffer. And what will you do then? Take the pitchfork? Then it will be very late. Now there is an opportunity to solve everything in a peaceful, absolutely normal way. There are means for this, and then people will not leave; moreover, many will return. For example, I will return when the situation changes.
- Do you understand why he suddenly started talking about it? Especially in a situation where the country has a coronavirus, like everywhere else?
- Because he had to react somehow since it is really a very serious loss for Belarus. He will deliberately lose people, skilled workers, because a cardiology center, a traumatology center, a research [center] go out to peaceful protests that do not harm anyone. Moreover, people do it outside of working hours.
Naturally, it is very painful for the authorities that doctors react in this way, so they must somehow react. And since there is no way to react normally - to establish a normal health care system and many other things - it is naturally too late. Power has no strength, no creativity, no productivity, no creation. It only destroys now. And it is trying to destroy further. This is a silly expression. I consider the person who said these words - and we know who this person is - a fool.
- Do you understand what is happening with the coronavirus in Belarus? To what extent is this situation under control? Maybe you are getting some information from colleagues who work there?
- I have been on the topic of coronavirus in Belarus since March, probably. Maybe even a little earlier. I tried to prevent the parade and everything else, helped to establish some kind of contacts on PPE (personal protective equipment) with volunteers. They worked separately, but it was still necessary to connect them somehow.
The situation with the coronavirus is as follows. The handsome man who now runs the entire country - I call him the "supreme virologist" - just stupidly does not notice what is happening. The real numbers do not at all correspond to what he gives statistically to the World Health Organization. Let's start with the fact that when Belarus reported a death rate of five people throughout Belarus, three or four people died in each of the Minsk hospitals with covid patients. Can you imagine the extent of the lies? And I'm just talking about Minsk.
Doctors collect statistics on coronavirus created by the initiative group. There is such a chat, "White Coats." There are wonderful people who are engaged in certain projects - they collect materials for The Hague about beatings and coronavirus, a lot of things. Naturally, these materials will be made public. It's just that people should know that the Ministry of Health, headed by the "supreme virologist," is lying, and, according to statistics, the situation is by no means rosy. There are a lot of sick people and a lot of seriously sick ones. There are not enough remedies.
- Considering that some doctors leave, some drop out for a day, is the system still able to cope with such an additional load that the state itself creates?
- There are no unsolvable problems; the same is in terms of epidemiology. You just need a head that thinks, and there are such people, they are simply not allowed to deal with these issues. Those who are allowed believe that they are smarter than everyone else; will their disregarding attitude or "ignoring" the problem lead to some result? No, on the contrary, it will all get worse.
I remember that [Lukashenka] said that he was banning the virus in the Republic of Belarus. I understand that he has the power to prohibit the virus from killing people, and in general, he probably can prohibit death from taking people. This is probably true for him, but not for the rest of the population. People die from coronavirus, people get sick, immunity has not been studied. No one in the world has yet really studied what it is that we actually released. A couple of months ago, they said that immunity in people lasts three to four months. Now, the time has passed, they say that immunity in people lasts six to seven months. That is, in the process of research, worldview data change. The virus continues to be studied because we released a beast.
- Do you have any general data on how many doctors have gone abroad recently or in general? And for what reasons?
- This data is not yet available, but I am amazed, surprised, and frightened by the fact that acquaintances with whom we communicate suddenly begin to ask: "How is it in Spain with the system of diploma confirmation?" I say: "Why do you need it?" He says: "And I am already in Poland with my family. They will give us documents, and I think which country I will go to live in." There are many doctors in our chat "White Coats" - more than 5 thousand, but, of course, there are also non-doctors - there are provocateurs and others. Let's say there are 3-3.5 thousand doctors in the chat, [of them], probably already 70% are getting ready to leave, because there are no prospects, first of all.
The healthcare system in Belarus is utopia. The healthcare system does not work like that. Sooner or later, the house of cards will fall.
Secondly, what the state promises, it does not fulfill. I'm not talking about the material issue, but, in the end, they promised payments for COVID, and, instead of that, they removed some additional payments, some contributions, interest. Roughly speaking, instead of profit, there are losses. Promises on remedies are not kept - this is the most important thing. In general, the healthcare system in Belarus is utopia. The healthcare system does not work the way it does in Belarus. Sooner or later, the house of cards will fall. It is possible to do everything right, but these people are not allowed to do it. I would love to take part in this too.
- Why did you leave Belarus, for what reasons?
- Because two AMAP officers had serious health problems after they tried to offend me at the absolutely calm event, just like those that are now taking place. Back then, they still did not commit atrocities, and I went through the court, and I was not killed. Although now I do not use the word "killed" on purpose - this is not a joke. If I now in this situation did what I did then, I think that I would simply be killed. And so they dragged me through the court, I paid fines for a broken arm, for broken ribs. Moreover, they attacked me. I will not go into details of everything. I left for political reasons, because of the expression of my civic position.
- When it was?
- It was in 2008.