Zmitser Bandarenka: New Man To Become President Of Belarus Soon
91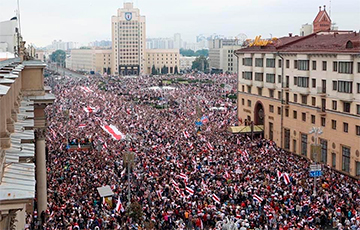 We have earned the right to a better life.
Coordinator of the European Belarus civil campaign Zmitser Bandarenka in an interview with Charter97.org editor-in-chief Natallia Radzina has predicted the situation in Belarus.
- On November 9, it will be three months since the revolution continues in Belarus. Let us sum up some intermediate results.
- The main thing is that a revolution takes place in Belarus. No matter how the events develop, the country will not return to the point of slavery. The Belarusians have shown their best qualities, which were surprising for many people in the world. We see mass heroism. Millions of people have come to life, they are taking risks, going to jails, but continue to protest. We see more and more groups, more and more people joining the strikes even in harsh conditions.
But one of the results is that we haven't won yet, although we could have won, and we need to understand why this happened. Recently, for example, Sviatlana Tsikhanouskaya was interviewed by Current Time, and a question was asked that a lot of people criticize Belarus and its leaders, and that it was necessary to act more decisively in August-September. To which Tsikhanouskaya replied: "Let's not talk about it, let's talk about the present day". No, it's essential to talk about why we have not won.
- And what does it mean to "act more decisively"? What did we fail to do?
- The actions should be more consistent. Imagine that Siarhei Tsikhanouski, Mikalai Statkevich, or Viktar Babaryka participated in the elections and as many people would have voted for them as for Sviatlana Tsikhanouskaya. I am sure that each of them would have said: "I am a legally elected president". Despite all the violations during the election process, despite all the injustices of the authorities, a lot of people voted for Sviatlana Tsikhanouskaya, but she does not want to call herself president because she understands that this is a great responsibility. This is the first thing - what was needed was not even determination, but just consistency.
The second thing was that it was necessary to create a number of authorities. If a person says that he is a legally elected president, he creates concurrent bodies of power and can appeal to law enforcement officials and give orders. Which we did not observe, and the whole situation took a completely different turn.
Plus a very important point is focusing on synergy of public groups, different political centers. But we can see that Sviatlana Tsikhanouskaya, as a young, inexperienced politician, and leaders of telegram channels, were delighted by the large-scale participation in the protests, and did not take appropriate political actions and did not want to interact with other political centers. "European Belarus, for example, could not establish contact with the telegram-channel leaders or with the people from Tsikhanouskaya's headquarters, who were somehow coordinating the protests, for more than a month - they were just avoiding contacts in every possible way, probably thinking that the victory was close, they did not need anyone and they would soon get to Drazdy.
Therefore, there is not even hesitation that comes round, but just system errors. There were no actions that most people were waiting for. Leaders in Belarus were better than the people taken all round for a long time, for example, in 2010, after the Square, the leaders, mostly presidential candidates, the heads of election headquarters went to prison for many years and months. There were no mass repressions against the people. Today, in a situation when the entire Belarusian society has woken up, when people were waiting for calls for clear actions, they did not hear them and did not see the leadership.
Yes, there was a huge influence of the telegram channels, but Stsiapan NEXTA was clearly burdened by the role he had found himself in. There were people in his team who had political ambitions, but they were not ready for a team effort. There's no good talking about Tsikhanouskaya and her headquarters either. She refused to be lawfully elected president at once and had no complete idea of how to act, because Sviatlana does not know the recent history of Belarus, does not know the history of the Belarusian resistance for 35 years, including successful actions when Belarus gained independence in 1991 as a result of mass protests. She does not know and does not want to know the experience of other countries that fought dictatorships, so a number of actions that were vital were not taken. Among other things, this includes international representation.
- Indeed, after 3 months, almost 100 days, one can already evaluate the work of Sviatlana Tsikhanouskaya's headquarters. Maybe something can be corrected now?
- You know, I don't expect anything from either Tsikhanouskaya or the headquarters, because Sviatlana said in one of her interviews that she does not read books. Probably, it is normal for young people in the 21st century, but not for a political figure in our situation. How will she learn something new? Books are a systematic source of knowledge. Yes, you can learn something from people, but it is not enough. Sviatlana is always late, always puts the brake on. Everyone remembers how she used to say pigheadedly: "And I will not call for protests, and I will not call for strikes!" Now she is equally stubbornly saying: "And I will not call for sanctions!"
On the other hand, she is animated by questions: "Do you have a stylist?". That's what she is interested in, and I am not interested in it at all, because thousands of people are imprisoned, people have been maimed, beaten and killed. I am not interested if she has a stylist or not. All that is needed from her is to protect people. Protect. And for this purpose, we need economic sanctions, there are no other ways. If you do not know in which countries sanctions were effective - read the books. Find out who Ronald Reagan is, read about the collapse of the Soviet Union, ask those people who were released thanks to sanctions against the regime. And, in different years, these are Aliaksandr Kazulin, Andrei Sannikov, Mikalai Statkevich, and many others.
I have seen different women in politics, for example, I saw Yulia Tymoshenko at Maidan. Well, Tsikhanouskaya does not look like Tymoshenko at the time of the Orange Revolution at all. I have spoken with Madeleine Albright, you, Natallia, have spoken with Hillary Clinton, Dalia Grybauskaite. These women in politics are of a completely different class. We just have a round peg in a square hole, who is mediocrely squandering the opportunities that have been obtained by blood, risk and imprisonment of thousands of Belarusians.
I may be accused that I am harsh, that she did something good, that she is a symbol. I will talk to you in a month. I think my position is supported by relatives of those people who are now in prison in terrible conditions, being constantly exposed to huge risks.
- The Belarusians voted for Sviatlana Tsikhanouskaya only as for the person who promised to hold new elections as soon as possible. She always says that "a weak woman" (in my opinion, that's her favorite phrase) and says that she is not a politician. Why was she suddenly called the leader of the opposition?
- Some people around her think that Tsikhanouskaya, in case of changes, will still become president or someone very important, but this is an absolutely idle hope. It seems that she has already missed the opportunity. There are people who can guide Belarus with dignity through the transition period. A coalition government is needed for that. There are representatives of the "new opposition", Viktar Babaryka, Siarhei Tsikhanouski, Maryja Kalesnikava... There are representatives of the "old opposition", people of principles - Pavel Seviarynets, Mikalai Statkevich, Yauhen Afnahel. These six people, after their release from prison, can gather and agree to create a coalition government, agree to return to the 1994 Constitution, which is what all leading lawyers, first of all Mikhail Pastukhou, are talking about. Then to hold elections, but to decide which ones should be the first: parliamentary or presidential ones. I believe that the elections of the Supreme Soviet under the 1994 Constitution should be the first ones. That's it, the process has been set in motion.
We know that on August 9, a huge number of people actually voted against Lukashenka for Viktar Babaryka, for Mikalai Statkevich, for Andrei Sannikov, for Siarhei Tsikhanouski. The participation of these and other people in future free elections was promised by Svetlana Tsikhanouskaya.
- Let's talk about the last march on November 8, which ended with arrests on a scale comparable to that of August 9-11. How will this affect the protest movement?
- Maybe, we should not talk about one single march. The most important thing is that the Belarusians have been participating in these protests for more than 90 days, hundreds of thousands of people have been taking to the streets. Tens of thousands of people marched out on November 8, and the worst thing is that the authorities have now turned to outright, unbelievable terror. This is a problem not only for Belarusians, because in the heart of Europe, in the 21st century, thousands of people in uniform, hiding their military and police ranks, are using terror, torture, repression against their own people. We know that when such criminals appear in such large numbers, there is a threat for neighboring countries. We must understand that Lukashenka has started to create a fascist regime, since the repressions against the intelligentsia, against educated people were characteristic of the fascist regimes in 1930-1940.
In Belarus, there is now terror against the entire intellectual elite - physicians, teachers, students, historians, artists, and musicians. We know from history that such regimes are destroyed in several ways: an armed uprising, a military coup in which the responsible military officials remove the criminal from power; a military intervention; a combination of protests and strikes inside the country with harsh sanctions from the outside - the case with Poland in 1989.
In order to protect Belarusians from terror, it is necessary to introduce tough economic sanctions against Lukashenka's regime. So and in no other way the only way the evil empire - the Soviet Union - collapsed. The sanctions have a huge effect. Based on the Belarusian experience, we know that when Belnautakhim's accounts and activities were blocked in America, political prisoners were released. The Belarusians of the diaspora once blocked a number of loans worth several billion dollars to Lukashenka's regime from Deutsche Bank, the Royal Bank of Scotland. Both I personally and Andrei Sannikov were released only because the EU ambassadors left Belarus and there was a demand to recall all of Lukashenka's ambassadors from European countries.
This is what we must now aspire to. The only thing that is needed from Sviatlana Tsikhanouskaya to stop the terror in Belarus is a public appeal to the leaders of democratic countries to impose tough economic sanctions, withdrawal of the ambassadors of Lukashenka's regime from democratic countries in order.
It is necessary to demand disconnection of the Lukashenka regime's financial system from SWIFT.
- I know that you have asked Sviatlana Tsikhanouskaya's headquarters to make a statement in support of economic sanctions against Lukashenka's regime. What did they say to you?
- If Sviatlana Tsikhanouskaya succeeds in imposing severe economic sanctions against the Lukashenka regime, then the Belarusians will recognize her leadership. Then she will be able to count on solidarity inside the country and on consistent actions of the diaspora.
The Belarusian diaspora has shown its great strength and great influence on how the world media covers the situation in Belarus. It is necessary to believe in yourself and understand that without any headquarters, representatives of the diaspora can demand, ask and beg the leaders of democratic countries and politicians of democratic countries to introduce economic sanctions against Lukashenka's fascist regime. It is possible to achieve it. They say Russia will help the dictator, but the Kremlin has its own problems, because sanctions against Lukashenka's regime will mean sanctions against Russia. Economies are very closely interconnected. And if Russia continues to save the fascist regime, it will fall under the sanctions itself.
I don't know any other way to stop the terror in Belarus. All these moanings, requests to start a dialogue - this is all in favor of the poor. They will talk to the strong. Naturally, it is necessary to release the real leaders who are behind the bars.
Speaking about the headquarters. During the preparation of the last march, they changed the time from 2 pm to 12 pm. I asked why they did it, if all Belarusians know that they have to go out on Sunday, at 14:00. "We decided that we need daylight hours, so we rescheduled it. In the end, there were one-tenth as many people. Then there was an incomprehensible call to the Belarusians to break through to Freedom Square at 8 pm. But excuse me, I think that it's lighter at 2 pm than 8 pm.
- Foolishness or provocation?
- Ambitions of young people who like to feel that they are commanders, give commands to someone.
- And do they command?
- Your "I" should be put somewhere far away. It is necessary to serve the Belarusians, to understand the processes that are taking place, to forget these children's games "I am the leader, I am the commander". If you want to be a commander, declare publicly that you are a commander. Say directly: "I, Raman Pratasevich, is the commander" or "I, Franak Viachorka, is the commander". You have to be responsible before the people. A lot of good things have been done by these young people, but their selfishness and refusal to interact with other political forces led to a situation where we did not win in August-September.
They may say: it's not right to quarrel or criticize now. But this is a natural process, we are going towards democracy. And under democracy, there will be very harsh criticism. Almost 100 days after the elections, we have an extreme situation, and a special responsibility lies with people who are relatively safe abroad. They must be responsible for their activities, both successes and mistakes. They must be accountable to people and adjust their plans.
- Is everything so definite with Putin's support of Lukashenka?
- It is hard to say what Putin thinks. We ourselves are to blame for this situation. If Tsikhanouskaya, or rather her entourage, had behaved like strong politicians and could have been representatives of the revolutionary power of the Belarusians, Putin would have negotiated with them long ago. And when inaudible figures take weak actions and waste opportunities, it pushes Putin to think: why should I talk with these people?
- Experts' opinions are divided: some say that Belarus is building a military dictatorship, others say that the regime is falling down.
- I will refer to the words of the famous Soviet dissident, Israeli politician Natan Sharansky, who, in his book In Defense of Democracy, said that small dictatorships exist as long as the big dictatorships have enough resources to support them. And it is clear that, without the support of the Kremlin, Lukashenka would not have resisted, but today the situation for Moscow is very sad. Support for Lukashenka's regime may turn out to be not even a straw, but a serious blow to the financial situation in Russia. Why would Putin support the insane person? It can be seen that the absolute majority of the population does not support him. Of course, as in Syria, you can go the path of war, supporting an absolutely unpopular psychopath, but then any transit of Russia and China with Europe will be stopped, the Russian Federation will suffer huge losses. Therefore, we must remind Putin that it is time to end support for Lukashenka. There are enough sober people in Belarus.
The same Viktar Babaryka can become a candidate that suits both the West and the East. Naturally, democratic forces in free elections will compete for seats in parliament and for the opportunity to nominate their own presidential candidate. There will be an open game of political forces. Neither Belarus nor Russia can expect anything good from Lukashenka, so a new person will soon become the President of Belarus.
- November 9 is another date - the birthday of Viktor Viktar Babaryka, the undisputed leader of the 2020 election campaign. How do you assess his role in the Belarusian revolution and prospects in the country's political life?
- Probably, if Mikalai Statkevich, Andrei Sannikau, Siarhei Tsikhanouski participated in the elections, then the role of Babaryka would have been different. I had a telephone conversation with Babaryka, and I literally said that. He ironically replied: "if the plumber Vasia had participated in the elections, then everything would have been completely different." Unfortunately, he himself ended up in the role of "Vasia the plumber," when he was not only not registered but was also imprisoned, as were the "radicals" Statkevich and Tsikhanouski.
Nevertheless, many Belarusians like Viktar Dzmitryevich and see a competent person who knows what he is talking about and understands economic and financial issues. I want to congratulate Viktar Dzmitryevich and wish him the fastest release. I also turned 57 this year, and I know what it is like to celebrate my birthday in prison.
Whatever the political alignments in Belarus, I think that this person's role in Belarusian politics will be great, at least, being his political opponent, I really hope so. Belarus needs people like Viktar Babaryka.
- Are his comrades-in-arms doing enough today to free him? Doesn't it seem that he is forgotten?
- I am a practicing Catholic, but it seems to me that there are achievements of universal human thought, including not only in science, history, technology, but also in religious matters. We see how the Indian law of karma operates in our country today.
I once asked Viktar Babaryka, and many people asked Maryja Kalesnikava to speak more about the fate of political prisoners. They didn't really focus on this important issue. Today, they are in prisons. We, veterans of the Belarusian resistance, especially those who have gone through prisons, know that we have to fight for our people by all means. And if we had not fought for many years for every political prisoner, then in Belarus, there would have been repressions for a long time, according to the Latin American version, with thousands of killed, with tens of thousands of missing persons.
I know that you, Natallia, at all your international meetings always name Viktar Babaryka and other prisoners from the "new opposition" because, at one time, they also fought for you. There should be no division; we must fight for the release of all political prisoners. There are thousands in prisons today. The number of 120 political prisoners, named by human rights activists, is incomprehensible; in fact, there are many more prisoners of conscience.
In order to secure the release of political prisoners, we need protests within the country, strikes, sabotage, and tough economic sanctions from outside. Only this will allow us to free our leaders and liberate the country.
- Do strikes have prospects in Belarus, given the almost complete absence of independent trade unions? How do we organize them?
- Yes, they do. Once upon a time, there were no independent trade unions in Poland either, but there were strikes. It is necessary to study the Polish experience of the 1970-1980s, how the strikes took place there. Powerful strikes are possible without trade unions, especially if the strikes are political - this is an absolutely different situation.
- Let's talk about the army. How subjective is it today, and can it affect the resolution of the Belarusian crisis?
- To be honest, I did not even expect that there are so many scums among the officers in the army and the police. I see how the "fathers-commanders" have ruined the lives of the conscripts of the internal troops and military units, who are used to suppress the rebels. The fate of these people will be sad.
In 2011, when we were in the KGB prison, I told the chiefs of SIZO (detention facility): "You are done." He didn't understand. I say: "There are several members of the PEN Center sitting here, there are 15 journalists here, we will not be released yet, but films will already be shot, performances staged, books written about what happened here. And you will look like a fiend of hell there." Punishers do not understand one thing: the Belarusian revolution will become one of the fundamental stones, if we use the biblical words, of the stones that will form the basis of the new Belarusian nation, it will become a part of the national epic.
Everyone understands that the battle between Good and Evil is going on in Belarus. Employees of the special services and police today are clearly on the side of Evil. The military still has the opportunity to take the side of the people. Many punishers will be arrested; many will be sentenced to life imprisonment.
Thousands of scum who wave with truncheons, who beat and maim women and old people, and fight the nation's elite will be forced to flee the country.
It will be necessary to build a new state and create a new Belarusian army, a new people's police, and a national security service.
- Let us finally imagine what Lukashenka's departure could be. Dictators usually go three ways: negotiations with the opposition, death, or prison.
- The question is not about Lukashenka; the question is about us. If we achieve the imposition of sanctions against the dictatorship and continue protests and strikes, then we will win. There is every reason for this.
It is necessary to deport the ambassadors of Lukashenka's bastard regime, demand their departure to their place of residence in the homeland, and disconnect the Belarusian financial system from SWIFT.
To balance Russia's aid to Lukashenka, we must have allies. The Serbs used to say: "We and the Russians are 150 million." And we, Belarusians, together with the "golden billion" are 1 billion and 10 million. We must clearly understand that the United States of America is a huge force, the European Union is a huge force, and we, as part of the great Euro-Atlantic civilization, can ask our allies for help. When they say that Russia is so big - no, there are more of us, and we want to be a civilized country, we want to return to European origins; therefore, we count on the solidarity of democratic countries. If earlier they said that Belarusians do not deserve help, now no one can say this, because even the newly elected US President Joe Biden said: "We are observing the situation in the world from Belarus to other countries." First of all, he named Belarus.
We must believe in our strength; we must act systematically and understand that we, Belarusians, can do a lot together, wherever we are. We have earned the right to a better life.