"White Coats" Announced the Mass Dismissal of Doctors in 30 Days
119
16.11.2020, 14:22

101,304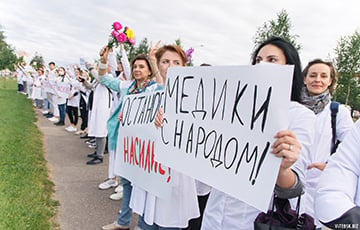 The doctors' patience ran out.
- We, doctors, nurses, and employees of medical institutions of Belarus, announce a massive, collective dismissal! - writes the Telegram channel White Coats.
In an atmosphere of unprecedented lies, lawlessness, and repression by the authorities in relation to people, we no longer have the moral strength to remain in the old format of appeals to sanity in video messages and signatures.
We do this for the people of Belarus in the hope that they will hear us. That plant workers, teachers, metro, and train drivers, public transport drivers will hear us.
There is no feeling more depressing than the feeling of powerlessness and helplessness, and all we can do is dismiss since we cannot go on strike.
The time has come for our voice, and we have no other way to be heard! But we are quitting because we have no right to go on strike.
There are already a lot of those who decided to quit.
This week (16.11-22.11), we communicate with colleagues, carry applications for resignation, and loudly declare this on social networks. We quit on the Labor Code in 30 days. During this time, the state and administration will have time to resolve this issue somehow.
They can either fulfill popular requirements or also invite the strikebreakers to work because, as we are told, we are all easily replaceable even during a pandemic.
Colleagues from among those who cannot quit for objective reasons and young professionals are offered the Italian version:
- not work without proper working conditions (we have the right to demand from the employer regularly updated PPE, daily change of work clothes, limited working hours, normalized number of patients),
- work one shift or less;
- issue sick leave certificates and prescriptions based on the needs of the patient and not false statistics;
- treat patients in the hospital as much as is necessary for his recovery, and not as much as planned;
- submit only real data for reporting.
And that's not all we can do!
Our colleagues are beaten and detained in the streets while providing medical assistance! They are put in jail for providing medical care! They are fined and humiliated for showing solidarity!
How much do we value our "white coat" to simply ignore it and continue to work, pretending that nothing is happening?
The requirements are known; almost 5 thousand doctors have signed up for them.