Heiko Maas: EU Will Increase Pressure On Lukashenka
5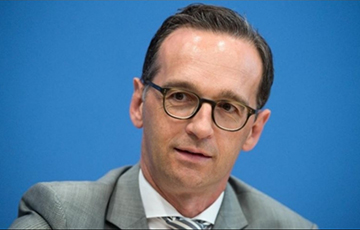 The European Union is in solidarity with the Belarusian people.
The European Union will consistently increase pressure on the Belarusian authorities until it goes into a dialogue with the opposition. This was announced to reporters on Thursday by German Foreign Minister Heiko Maas, tass.ru reports.
According to him, the EU may increase pressure on the Belarusian authorities by including the people from Lukashenka's entourage in the sanctions lists. He added that the list is likely to be extended. "As long as there is no constructive reaction from Minsk, we will consider increasing the pressure," - Maas claimed.
As the head of the EU diplomacy Josep Borrell said earlier on Thursday, the foreign ministers of 27 EU countries agreed to prepare a new package of sanctions against the authorities and institutions of Belarus to "support the democratic rights of the people of the country". According to him, "these sanctions will be imposed not only against individuals, but also against [government] structures, companies and entrepreneurs".
To date, the EU has introduced two blocks of sanctions against Minsk, including 55 representatives of the country's leadership, Aliaksandr Lukashenka and representatives of security agencies. All of them are banned from entering the EU, and their accounts in European banks, if found, are subject to freezing.