Minskers Bidding Farewell To Raman Bandarenka At Northern Cemetery
2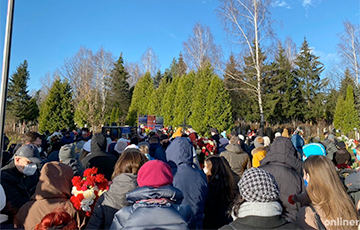 A sea of white and red flowers.
Today thousands of Minsk residents are bidding farewell to 31-year-old Raman Bandarenka. A civil funeral service for the Hero of Belarus was held near the Church of the Resurrection of Christ, where thousands of people gathered. Then the Minskers went to the Northern Cemetery, where the funeral of the Hero of Belarus will take place.
Hundreds of people wishing to say goodbye gathered at the cemetery and brought a sea of white and red flowers.
In the evening of November 11, Raman was severely beaten in the yard of his own house. Later it became known that he was taken to the Central District Department of Internal Affairs. After midnight, Raman was brought to the intensive care unit of an emergency hospital in a coma. In the evening of November 12, Raman died.
31-year old Raman was the only son of his parents.