Kommersant: Lavrov Was Tasked With Bringing Lukashenka to Reason
116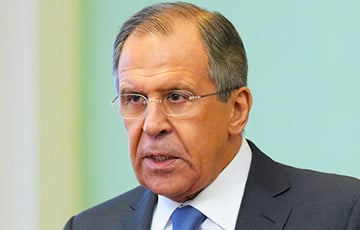 The dictator's behavior is increasingly puzzling the Kremlin.
The EU approved (the third package of sanctions against Lukashenka's regime). It is assumed that this time restrictive measures will affect both officials and state enterprises and businessmen who finance Lukashenka's government. Similar measures against the official Minsk are being prepared in the United States.
Against this background, Russian Foreign Minister Sergei Lavrov's visit to Belarus was announced next week. Dmitry Drize, a political observer for the Kommersant newspaper, believes that the new sanctions against Lukashenka directly affect Russian interests.
During the video conference, the EU countries' foreign ministers agreed to prepare a new - the third in a row - package of sanctions against Belarus. It is expected to be introduced in a few weeks. It will focus on personal measures against Belarusian officials, as well as entrepreneurs and companies that finance the regime.
There were also proposals from Poland and Lithuania to punish the European Union subjects who cooperate with the official Minsk. It is believed that this will be a very sensitive blow. It is no secret that without such a boost, the economy of Belarus, which is not very efficient, may well fail and collapse at one point.
However, these are general statements. But there are also specifics, and it is extremely unpleasant for Russia. The thing is that all these EU sanctions hit the main Belarusian ally directly, if only because many Russian companies and entrepreneurs (including well-known ones) directly cooperate both with Belarus and with Lukashenka personally.
Facing the prospect of having their European accounts blocked is clearly not in their plans. And we are talking about European sanctions, but, not far off, there will be American: the Congress approved the relevant document (the Belarus Democracy Act), so it is likely that Washington will not keep us waiting.
Well, again, it is no secret that in the event of a collapse of the ally's economy, it will be his "elder brother" - Russia - that will have to save it. Today, Lukashenka has no other option. Although, as you know, the Russians themselves do not have enough money.
But, apparently, Lukashenka is not going to stop, which means that, after the third sanctions package, there will be a fourth and a fifth.
Western partners take time to start, but if they do, they do not retreat from their path. Again, Biden's factor and the new American policy in the post-Soviet space are also a matter for the near future. I would like to believe that Moscow understands this.
The visit of Sergey Lavrov to Minsk has been announced. Previous attempts to somehow reason Lukashenka, if they were made, had no result; it only got worse.
Maybe this time, Sergey Viktorovich will be able to influence his partner somehow. Otherwise, there is a threat that the Belarusian collapse will directly backfire on Russia, and in the most unpleasant economic part.