Viktor Shenderovich: Belarusians, Tens of Millions Are Looking at You With Hope
9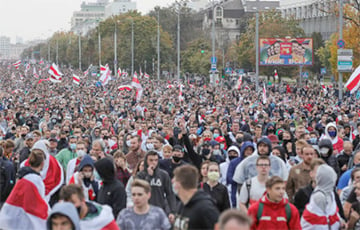 The more people come out to protest, the more affordable the price of freedom is.
Famous Russian writer and publicist Viktor Shenderovich addressed the Belarusians on the eve of the Long Live Belarus! March, which will be held in Minsk on Sunday, November 22:
"I have a delightful opportunity to say words of support to Belarusians.
It's delightful because there are actually a lot of us. I think tens of millions of Russians are watching your struggle, your amazing, free, and non-violent choice with sympathy and anxiety
Stanisław Jerzy Lec used to say: "The price you pay for freedom decreases as demand increases"
The more people come out, the more persistent you are in your demand for freedom, the more chances are to avoid big, real blood.
I'm worried about you, but believe me: there are tens of millions of us - those who sympathize with you and look at you with hope.
Long live Belarus!"