The Results of the March on November 22
5
Andrei Zhvaleuski
23.11.2020, 16:37

46,703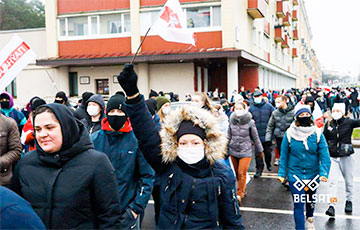 Systemic misinformation helped.
Belarusian writer and screenwriter Andrei Zhvalevsky on Facebook summed up the results of the March, which took place on November 22. Let us remind you that tens of thousands of Belarusians took part in the traditional protest action.
"I went to visit friends and noticed that the courtyards on Prytytskaha Street had managed to renew the festive ribbon decoration overnight. Surely, not only on Prytytskaha. I thought it was a good sign.
Indeed, the tactics of the district marches proved to be fruitful. It turned out that creating one-two dozen columns of 500-1000-2000 people is incomparably easier than our beloved two hundred thousandth march. People crystallized in courtyards, at key points in micro-districts, and then went out into the streets with flags.
Systemic misinformation helped a lot: several respected media and telegram channels wrote that the march in Minsk would start from Independence Square. None of the protesters even considered such a bad idea, but the "law enforcement officers" cordoned off the center, as in films about the war. The central metro stations were immediately closed (as a result, there were as many as 12 closed stations), and "Rubezhi" was set up. In short, they prepared well.
And they were not ready for the fact that the columns of Belarusians would roam the districts. Yes, they tried to disperse us all the time, but something went wrong. First, the dispersal was successful only with a multiple numerical advantage of the security forces. If two dozen people in balaclavas jumped out of the minibusses against a thousand protesters, no one fled anywhere. The "law enforcers" stared in bewilderment with holes from balaclavas and threw firecrackers or even flash grenades. But, since long ago, no one reacts to these firecrackers. And if the courageous "mentolitsioners" tried to detain someone together, ten civilians would approach each of them, and the "roosters" were washed away, leaving the prey. Sometimes, it was possible to fight off our people from a larger number of armed dudes.
In this case, the routes of the columns were created on the fly. They sent the "darkness" on Prytytskaha? Okay, let's walk along Burdejnaha. Set up an ambush at Sportivnaya? We will turn in the opposite direction. Each march turned out to be its own special, with its own thing. The "siloviki" can rack their brains for a week and come up with an antidote, but all to no avail - the next district marches will be held according to completely different scenarios, which will be created on the fly.
And people's mood has changed markedly. After the death of Raman Bandarenka, many show not the "victory" but a clenched fist. I was very afraid that hotheads would try to start a fight with the "law enforcement officers." But today, there are very clenched fists. And there are a lot of "victories." Yes, I had to strain, mobilize, brainwash, but it was not in vain. The marches took place everywhere, even in those districts of Minsk, where it was quiet before."
The summer-autumn carnival mood is gradually returning. For example, near the National Library, people danced around a large Christmas tree.
Yes, there were, of course, detentions. At the moment, there are 424 names on the lists of human rights defenders. But, let me remind you, a week ago it was 1300. So there is a good trend here.
Not only Minsk walked. I will just list the cities that came across to me in the reports: Zaslaul, Navapolatsk, Hrodna, Brest, Mahileu, Biaroza, Iuje, Pruzhany, Staryja Darohi, Lida, Lagoisk, Dziarzhynsk, Smaliavichy, Vaukavysk, Zhodzina, and Pinsk. Somewhere, there were chains and a march through the area. Somewhere, there were single pickets. Somewhere, they were completely partisans: they staged a demonstration of potatoes or made a snowman with a flag (hello, Lepel!).
At this time, the "authorities" continue with their repertoire. If you remember, in one of Minsk's districts, there was a small Eiffel Tower, which was constantly repainted - sometimes in white-red-white, then in gray. This morning, the tower was cut down and taken away. This is the corporate style of the "Belarusian state": to break everything and plow everything, just not to let people rejoice.
And after today's general march, another portion of lies began. I will not retell everything - it's not worth it - but one moment interested me. They say that "there were much fewer protesters." But they don't say how much. But I'm very interested in what figure the Ministry of Internal Affairs will draw. The last one sounded was 2600. Also, it made me laugh that the propagandists started stealing chants. Protesters often chant as they walk through residential areas: "Look out the window, not the TV." Today, they advised from the TV "not to watch the Internet, but to look out the window." Excellent advice, today a lot of ordinary people saw a lot of interesting things through the window.
In the evening, the show continued. After three weeks of hard sacrificial marches, people realized that they could change a lot without unnecessary losses. In my Sukharava, in the evening, they not only shone with flashlights but shouted "Long live Belarus" (which does not happen every day) and waved flags from the windows (which usually happens only during marches).
And today, we will support our elderly heroes. I think they were also inspired. In their chat, they share their plans for the March of Wisdom.
Good day. Good feeling of anticipation," - wrote Andrei Zhvaleuski.