Andrus Takindang: We Heard Cars Honking 'Long-Live-Be-La-Rus', It Really Cheered Us Up
2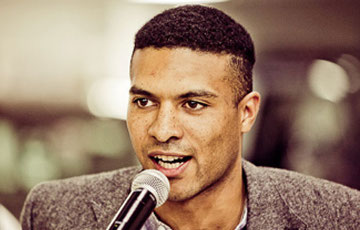 The musician was released after 15 days of arrest.
Several musicians were released yesterday after 15 days of arrest - Pavel Arakelyan, Andrus Takindang, Ihar Assidchanka, and Leanid Paulionak. Kanstantsin Lisetski fell ill during his arrest and is now in hospital, gazetaby.com reports.
All of them were detained after the yard concerts in Minsk.
- I do not regret anything. First, we played that concert to the end. It was very emotional there. And yesterday I was met by people from that yard in Kamennaya Horka, and it was very nice. They even put some of my drawings on their wall, - smiles the musician of the Recha band Andrus Takindang.
He spoke about his first impressions at large.
- So, it turned out that on Friday, November 6, I met the contrabass player Erik Arlou-Shymkus from the Akrestsin Street detention center, and then I was detained and he met me yesterday. Such a cycle. I feel very good and am very impressed with how many people came to meet me, first at Akrestsin Street, and then at home by the neighbors. There were many gifts, letters, the feeling that we spent ten years in hard labor, such an attitude towards us, - the artist shares his impressions, and regrets having no time yet to thank everyone.
He talks about the conditions in prison, and how prisoners keep the connection with the outer world.
- All these two weeks, some minimal information came to our cell with new detainees. So we learned about Raman Bandarenka, who was killed, and were shocked by this death.
Once we heard how the cars honked "long-live-Be-la-rus", it really cheered us up. We found out that Sunday marches were taking place by the way the paddy wagons arrived in the evening, we heard that. Then new people were brought in the corridor, we understood that arrests were taking place, and that there were quite a few people.
When we were detained after the concert, we were taken to the Frunzenski District Department of Internal Affairs. There are different employees: someone just performed their functions and wrote protocols, someone swore a little and shouted: "why don't you stay at home!"
But they didn't beat us, they didn't use violence. But those who were detained on Sunday, November 8, said that they saw someone beaten during the arrest or in a paddy wagon. These people were handcuffed, - the musician recalls.
It so happened that for the first three days he was with his friends, and then he found new friends.
- The four of us were detained, interrogated all together, and placed first in a four-bed cell, and the next day, on Sunday, when there were many detainees, we were transferred to a two-bed cell.
There was one mattress, but it was not scary for us, we were all friends, somehow settled on the beds and on the floor. After the trial on Tuesday, Kanstantsin Lisetski and Leanid Paulionak were taken away from us, and we got Ihar Assidchanka, and then I was transferred to a cell for six people. Among them were a businessman, entrepreneurs, a programmer, and a student. All people were intelligent, with higher education. There were those who were detained in the summer, but they do not give up and continue to fight.
One person gave a very interesting lecture on the history of Ancient Rome. In general, the conversations were long, somehow we tried to do workouts. A good company makes it very easy to stay in the Akrestsin Street detention center, - says the musician.
Like all the prisoners, he was waiting for a transfer from his relatives.
- Not so much food, food for me was normal, like in a sanatorium, diet cereals, I ate them with pleasure. They passed me the New Testament Gospel and the main thing - a pen and a notebook. It was possible to write and draw, - the musician showed his drawings made in the detention center.
Before continuing his creative activity, the artist is going to be tested for coronavirus, because there were "a lot of sick people" behind bars.