Uladzimir Hancharyk: I Am Glad That People Keep Flag Flying And Are Ready For Further Struggle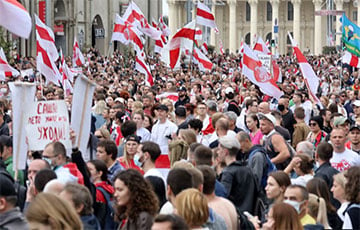 The Belarusians are persistently demanding the change of power.
The single opposition candidate in the 2001 presidential elections, Uladzimir Hancharyk, has commented udf.by on the Sunday March and the new surge of protest wave in Belarus.
"The main thing that the rallies on Sunday have shown is that the protest is not weakening, no matter how someone wants to convince people that everything is coming to an end. People are still outraged and demand new elections without Lukashenka," - Uladzimir Hancharyk said.
At that he stated:
"I am glad that people do not give up and are determined for further struggle".
Uladzimir Hancharyk also sees the absurdity of the authorities' actions.
"They are engaged in senseless struggle from my point of view, cutting the white-red-white ribbons, for example. This struggle is not only meaningless, but also exhausting for the authorities," - Hancharyk said.