"We Have Seen More Like You Who Change Their Shoes"
13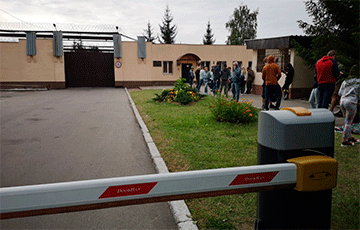 This is how "yabatka" was punished for action in support of AMAP.
The journalist of the Belarusian service Radio Svaboda Ihagor Karnei received 10 days of arrest - he and his wife Ina Karnei were detained on November 15 in Minsk. Ina was released the next morning. Nobody knew what happened to Ihar. Only three days later, his name was found in the list of prisoners in the detention center in Zhodzina, currenttime.tv reports.
- What is the story with "Lukashenka's supporter" with whom you had to sit in a cell?
I was not exactly sitting with him in the same cell, but he was in the next one. Indeed, there was such a story. It's probably not the only one. I know that there was something similar in August, too, when a person who sympathizes with the current authorities ends up behind bars.
In this case, the cellmates said that during the trial [people] were taken to six rooms with computers with Skype - the so-called skype courts - and in one of these rooms, a man was tried, who was also detained on the march, but, as it turned out, he came to support not the supporters of change, but the security officials. He shouted to them, encouraged them to actively press people, puppeteers who disturb the peace in the country, and so on. But who can tell from a distance what he was shouting? He was packed in a paddy wagon with the rest of the participants. And on the third day, when 72 hours of legal detention expired, he was taken to court.
Naturally, he was counting not only on an apology but also on some kind of compensation. He said: "The high court will look into everything, and you will get what you deserve." But the High court looked at the Protocol, and the protocols are actually stamped once for about 1000 people. For any number of detainees – the Protocol is approximately the same; maybe there are a few words of difference.
Then the judge began questioning him, why did he come out, why he walked under the national white-red-white flags, why he shouted: "Long live, Belarus!" In response, he heard that everything was the other way around: "I did not go anywhere; I came to support Aliaksandr Lukashenka; he is my president." To which the court said: "We have seen more like you who change their shoes." And he gave him 12 days of administrative arrest. This is, in general, even more than for some [other] participants.
- What were you accused of? Why were you given 10 days? What were the conditions of detention?
- In principle, there is no big difference now - a journalist, a doctor, a teacher - a "one size fits all" approach is applied to everyone. My colleague Aleh Hruzdzilovich was wearing a vest, worked officially; everyone knew that he was a journalist. He had a lawyer, he had a witness, and he was given 15 days.
In this case, in Zhodzina, we were tried in general with minimal means. There was no lawyer - they were not allowed to be present, even this formal witness in a balaclava was no longer needed. It's just that the judge, in his sole person, made the decision. And there, it already depended on aggravating factors. Let's say there were two protocols: one traditional - for participation, the second - for disobedience to police officers. Then [they give] 15 days. There was a guy in our cell - he was given 20 days for the second time.
- Ihar, what would you say to journalists who are now in prison?
- Probably, from the outside, it seems more terrible than being there. A person who has gone through the army has no big problems sitting in jail for 10 or 15 days. Naturally, there are restrictions on movement, freedom, and so on. In general, the status of a journalist does not matter now. They just don't pay attention to it. You sit there like an ordinary person.
And the people there are all worthy, I can tell you with full confidence: there are both company leaders and individual entrepreneurs. In fact, people of the middle and higher class. These are people who do not put economic goals above all else, namely political demands: Lukashenka's resignation, new elections, positive changes.