Belarusian-Speaking Belarusian With Russian Passport Is Being Expelled From Belarus
14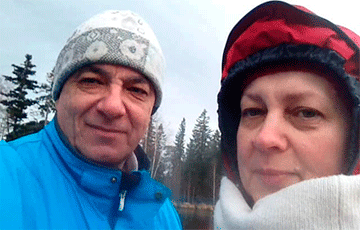 He will be able to return only in three years.
A military pensioner from Baranavichy with Russian citizenship is being expelled from Belarus for protests, Belsat reports.
On November 25, a resident of Baranavichy, Aleh Malaschanka, was told by the citizenship and migration office of the regional police department that he was being expelled from the country without the right to enter for three years. He has to leave Belarus before December 25. He was given several days to appeal the decision.
Aleh Malaschanka is a native of Baranavichy. A former officer, he graduated from military service in Russia, where he automatically received Russian citizenship. In 2004, he returned to his homeland; for several years, he was the owner of the Vadzianik store, and later got a job at the 558th aircraft repair plant.
The Malaschanka family is actively involved in public life. They achieved the opening of Belarusian-speaking classes in Baranavichy, participated in projects to popularize Belarusian culture, were election observers, and Aleh's wife, Tatstsiana, was herself a candidate for deputy.
Tried for protests
In the commentary, Tatstsiana Malaschanka noted that her husband was never given a copy of the expulsion order. In the document with which he was allowed to get acquainted, the reason for the expulsion is not indicated.
"It was clear in court that they are "sewing" a case for me. For what, what was I guilty of? The paper itself doesn't say anything," the activist said.
For this reason, it is also not known what exactly needs to be appealed.
According to Tatstsiana, it was decided to expel her husband after protests against the violence that took place at the Baranavichy aircraft repair plant in August. At that time, about a dozen workers protested for five days, and almost 400 signed an appeal demanding Lukashenka's resignation, holding new elections, releasing political prisoners, and so on. The authorities did not fulfill any of the requirements, the signatories of the appeal were interrogated, and in September, they began trials. 24 people were tried, including Aleh Malaschanka. He was fined 25 basic units - the largest in relation to the factory workers. The court's decision was twice appealed, but to no avail. The fine must be paid by December 4.
According to Tatstsiana, another activist, Ihar Fedorau, may also be fired from the plant, whose contract should soon expire. He was fined 20 basic rates.
"They think that the workers will be beheaded now, and that's all - there will be no strike, even an Italian one," the activist noted.
Where to go?
Aleh Malaschanka is still thinking of leaving Belarus either to Poland, where his eldest daughter is studying, or to Ukraine, where his relatives live. But a lot depends on where the best job will be.
In Baranavichy, Aleh has two youngest daughters - in the 11th and 3rd grades. The middle daughter reacted to the situation with understanding because "the father himself would not have left." But the youngest daughter took the expulsion harder.
The 85-year-old mother of the activist also remains in Belarus.
"But we are not saying anything to his mother yet because it could just kill her," said Tatstsiana Malaschanka.