"Five People In Masks Came": Owners' Association Chairman's Office Set On Fire In Rzhavets District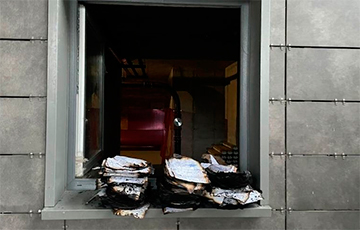 The authorities consider that Minsk district "unreliable".
Last night, a fire broke out in the premises of the chairman of the homeowners' association on 127 Winners Avenue. After that, there was information in the house's chat room that five unknown people opened the door and committed arson. The Ministry of Emergency Situations confirmed the information about the emergency to Onliner and stated that the alleged cause of the fire was arson.
The Ministry of Internal Affairs has so far limited itself to a brief statement: a check is being carried out. Local residents are now actively discussing what happened and wondering how it could happen, because their yard has recently been among the "unreliable" ones and is actively patrolled by law enforcement agencies. "To all appearances, it was set on fire. It seems that everything was made vanish inside. Now there are bare walls instead of a cozy office," - a local resident wrote.