Nikolai Svanidze: As Soon as Putin Betrays Lukashenka, the Security Forces Will Stop Supporting Him
50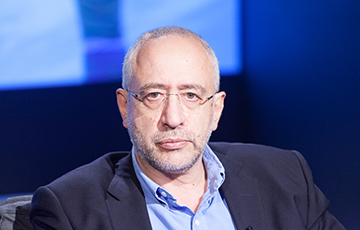 The dictator will "leave" in a very foreseeable time.
The well-known Russian journalist Nikolai Svanidze in an interview on Echo of Moscow expressed confidence that Moscow is actively preparing a replacement for Lukashenka and "they will make him 'leave'" in a very foreseeable time.
When asked whether Putin is learning from Lukashenka by looking at the events in Belarus, Nikolai Svanidze said:
- I hope that he learns from Lukashenka as the whole world learned from us after 1917. Namely: we must act so that it does not happen. They show us how we should not act. I hope that this is exactly what Putin learns from Lukashenka. As you know, bayonets are good for many people, but it is very difficult to sit on them. Sit for a long time. Some yogis can sleep on nails. First of all, we are not yogis. Secondly, bayonets are not nails. It is very difficult to sit on them for a long time. I hope that Putin sees this in the example of Lukashenka. Bayonets are not enough to preserve the seat. Lukashenka is already disastrously unpopular. It is irretrievable; everything is irreversible. He is done. And Putin sees it. I think that Putin is cooperating with Lukashenka until he has found an alternative replacement for him.
Why is Putin's rating, as far as I know, falling every day? Because he supports Lukashenka. Because the first protests, the first weeks of the protests, had absolutely no geopolitical connotation. They were absolutely not anti-Russian. There were only Lukashenka's ones. Since we now support Lukashenka, naturally, his rating is not growing there. I mean Putin's rating. But the Belarusian "siloviki" are guided by the Kremlin. And as soon as Putin betrays Lukashenka, they will stop supporting him. But he keeps him because there is no substitute.
If Lukashenka falls now, people will come who are oriented toward the West. Putin doesn't need this. He is looking for a person who would be "electable" and, at the same time, oriented towards Moscow. This is the kind of person he needs.
Anyway, Nikolai Svanidze is sure that "Lukashenka will 'leave' in a very foreseeable time."