Was There a "Boy"?
115
28.11.2020, 22:50

101,540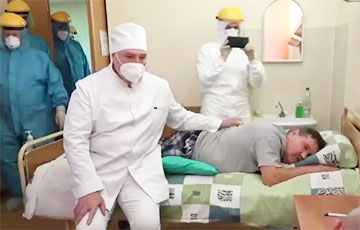 The reaction of doctors to the Cockroach's ravings is priceless.
Yesterday, the "doctor of all Belarus" Lukashenka arrived at the 6th City Clinical Hospital of Minsk to find out how people are treated there for coronavirus, the Nick and Mike Telegram channel writes.
He allegedly went into the red zone, but let's figure it out, was it there?
1. At the entrance, no gateway is visible on the video. This cannot be the case in hospitals.
2. Lukashenka has a white coat instead of a full-fledged suit. I remember that Putin looked a little different.
3. A respirator was on the beard like the sellers have on Kamarouka.
4. The doctor carries the face shield. He persistently offers to use it for its intended purpose, but Lukashenka pretends that he is not being offered.
5. He took the gloves but did not put on. What for? It's psychosis, after all.
6. He eventually put on the respirator but constantly touched it with his hands, as well as the "doctor" nearby.
7. This "doctor" is generally strange. There are no marks on the PPE, and he entered the "red" zone without a mask and a face shield. Is he definitely from the 6th City Clinical Hospital? By the way, he has PPE with a blue label on his chest. Only Eismant has the same one.
8. Patients are in a prone position. One is without a mask. For some reason, Lukashenka's hand is on his back. He has gloves in his hand. So he carried it all the way, never wearing it.
In short, the great Russian vaccine, from which more people die than cure, cannot explain this. This is only a cheap play.
Moreover, knowing that Lukashenka is afraid of everything like fire, it is difficult to believe that he dared to come to a place like this where people die one by one. Earlier, the channel Spitz Pervogo talked about how Eismant came up with fake news that Lukashenka had been ill. Then almost no one believed it.
Now it is very likely that there was no red zone either. Again, Natulia tried to stage a play according to her education at the Academy of Arts, and nothing came of it? She's used to it. We are waiting for more new secret negotiations between Nick and Mike. Because, in the hospital, he read from a piece of paper. They didn't have time to voice it? Or to translate a passage about the "ideological basis"? Rumor has it that the translators who knew these cliches are no longer in business.
Well, our older comrades Nick and Mike from the KGB (or where are they from?) could work better and not pass press materials for intercepting secret negotiations. We haven't even reached the level of insider information yet. Colleagues, do not disgrace yourself, please.
The reaction of doctors to Lukashenka's ravings is priceless. The range of emotions is from laughter to pity. Here, the masks definitely do not hide emotions.