Story Of Nina Pryvalava, 61, Who Goes To Marches
4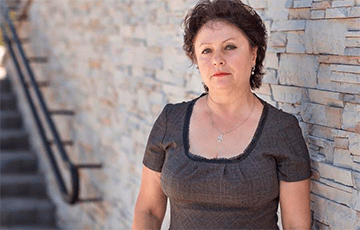 The woman used to be beyond politics, but her life changed on August 11.
Nina Pryvalava is a pensioner, mother and grandmother. She is 61 years old. Most of her life she worked in legal guardianship. She summarized her experience of raising orphans in articles for magazines and newspapers, and also wrote a book in which she talked about the people she met during her career.
Recently, a woman was released from the Zhodzina prison. She spent 12 days in prison, and after her release she was hospitalized with COVID-19. Another, but no less important story of a personal protest of one woman, on tut.by.
Mrs. Nina used to be beyond politics, but her life changed on August 11. She came out of the metro to the bus stop "Hrushauka Metro Station", and saw unknown men in balaclavas rudely detaining guys on Dziarzhynski Avenue.
- Several young guys were standing without flags, without slogans not far from me - and then police buses flew up. At the same time, the driver tried very hard - he opened the doors on the go. 5-6 people flew up to one of the guys, knocked him down and began to beat him - he fell to the ground.
I shouted, "What are you doing! You killed him!" "And you will come next," they answered. Young people were thrown into the buses and taken away. I was shocked. For the first time in my life, I saw this not in the movies, not on TV, but with my own eyes.
Then the woman began to take an active interest in the events, to support the protest movement. She also learned about the activist Nina Bahinskaya, whom she greatly admires.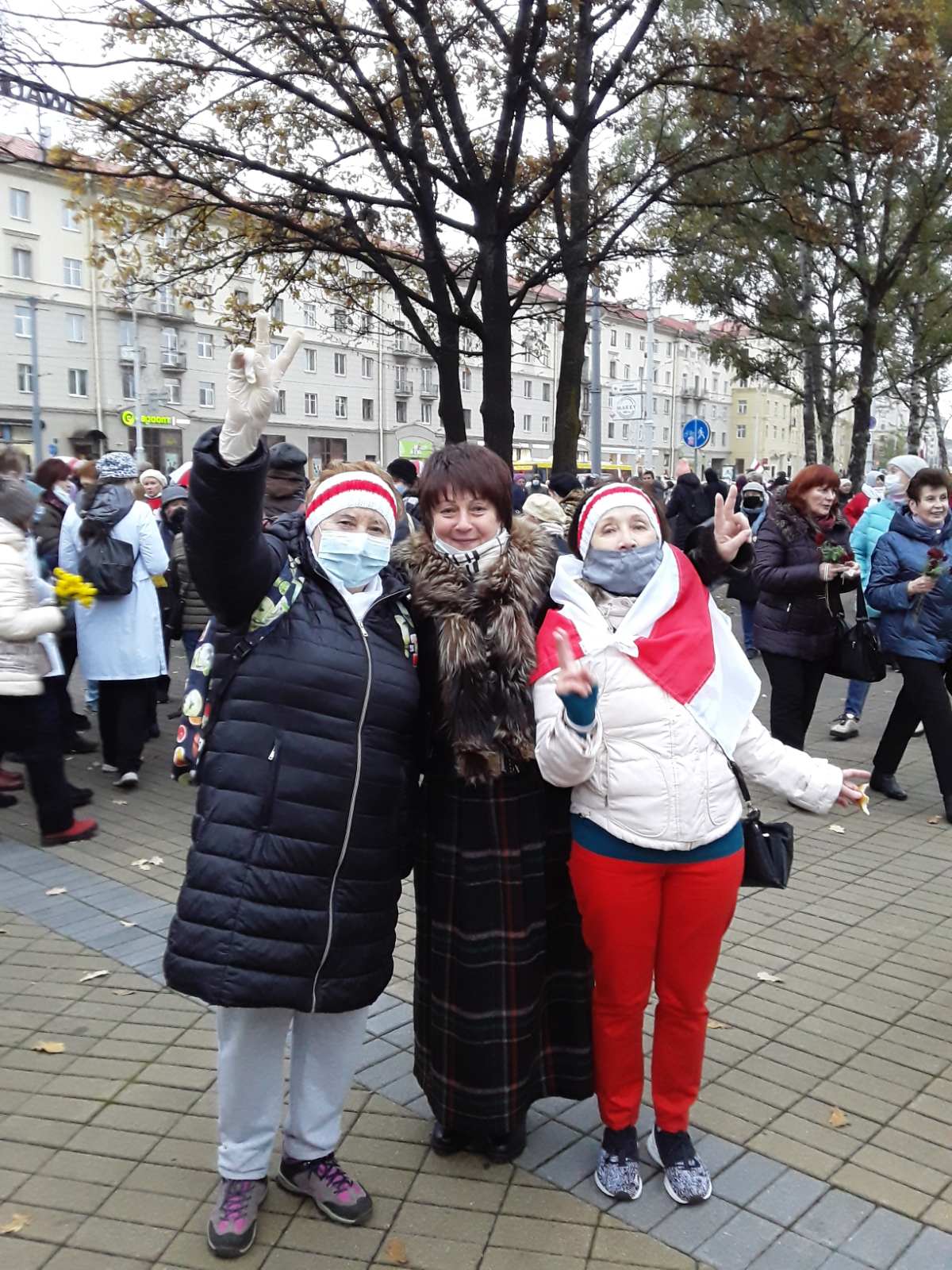 - On October 11, I went to a general meeting to find Nina Bahinskaya, give her my book and express my admiration. The book came out in a small edition, in it I collected the stories of people I met in my life. With the book I went to the Heroes Obelisk, there I met my friends. We were standing not far from the hill, from the side of the Planet hotel.
All those who came took out their flags, banners, shouted "Long live Belarus!" The atmosphere was normal, no aggression. There were more and more people. Then buses and paddy wagons began to arrive, and the security forces began to jump out of there. They started beating the youth with truncheons and kicking them, 5-10 people attacked the guy. It hurt so much! After all, anyone can be in the place of the beaten ones!
We stood with the women in a hitch and moved towards to defend him. He was covered in blood, did not move. His flag and backpack were also covered in blood. Then they threw him into a bus and took him away, we could not help him. I picked up his backpack, hung it on an acacia bush, and some girl raised a flag, pressed it to her chest, there was blood on it. One woman offered to give a packet to wrap the flag, but she refused. She held the flag and cried. It is unbearably hard: all my life I have been teaching children (my own and my charges) that there are no hopeless situations in life, but it was just that. It's a terrible feeling when you can't help people who are suffering.
Then another bus arrived. The women and I joined forces to protect the youth, shouting: "What are you doing? Don't touch our children!" And at that moment they sprayed something in my eyes, face and nose... At first I did not understand what it was, but after it turned out that I had a chemical burn of the cornea and respiratory tract (the document is at the disposal of the editorial staff - edit.).
After that people began to disperse. My friends, as it turned out later, went to Niamiha, and I went to Kalvaryjskaya, in the direction of my house.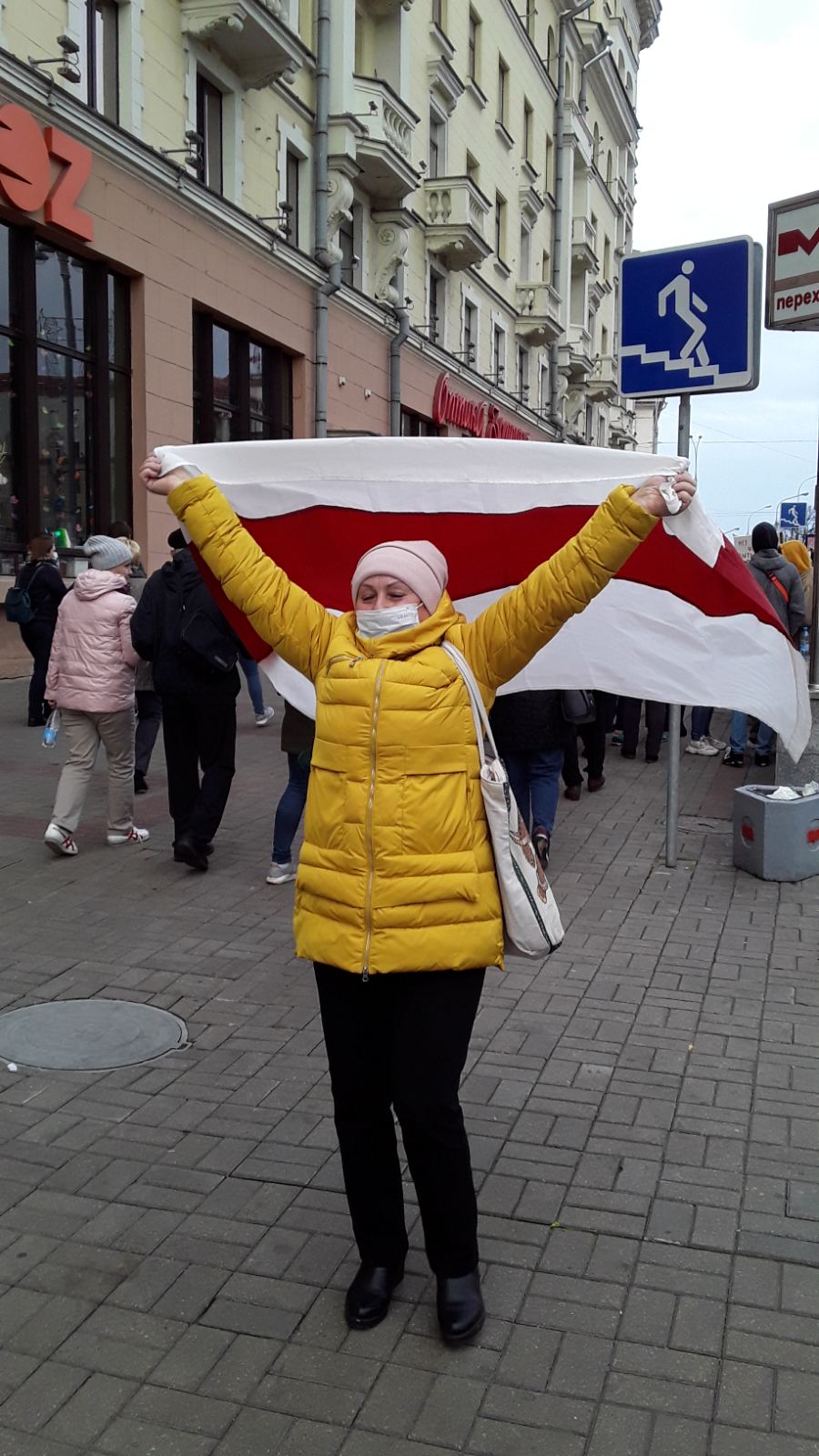 Near the cemetery, Nina and the women she met on the way again ran into minibuses and paddy wagons.
- This time I raised my hands and began to shout loudly: "Lord, why can't you see that our people are being killed! Help." She also shouted that all murderers, sadists, rapists and scum must "die," the woman admits. "And then they grabbed me and dragged me into a bus.
There were already five riot policemen and detained men in the bus. Then another girl was thrown to us. It turned out that this is the artist Lena from Mahiliou. They were very cruel to her, one of the security officials hit her in the face. As I understand it, the girl resisted the arrest or something like that.
I tried to talk to them, so that there was some kind of dialogue, so that they were distracted and did not hit anyone else.
"Young people, and if the government changes, what will you do then?" They answered me: "But the government will not change." The second time I asked: "And yet: when the government changes, what will you do?" They laughed: "We will work as before."
Mrs. Nina was not beaten. The bus stopped, everyone was thrown into a paddy wagon. Then they took her to the police department. They took a photo there, checked things, drew up a protocol. Nina was able to get home 10 hours later.
- And then I did not behave very responsibly, I relied on chance. I was sure that my "sand" in my eyes, in my throat, would quickly disappear. I thought that I would wash myself, that I would have some tea - and everything would pass. But by the morning I realized that it was very difficult to breathe, the left eye did not see, and the right one saw, but badly. I called an ambulance. It turned out that I still have high blood pressure. First, they helped me in the fourth hospital, then they took me to the emergency hospital. There the doctor said that I should be left for treatment. I stayed there for a week, and then I was discharged.
After discharge, Mrs. Nina continued to go to marches.
- Why do I keep going there? I love modern youth. I even wrote a poem for young people, though I haven't published it yet. Maybe I'll read it to someone at the rally ... I'm glad that such a generation has grown up, I see the future before them. And we, pensioners, must support them. And I also have a sense of guilt before young people that our generation is not so active. If we were brave and decisive, then perhaps we would have lived in another country.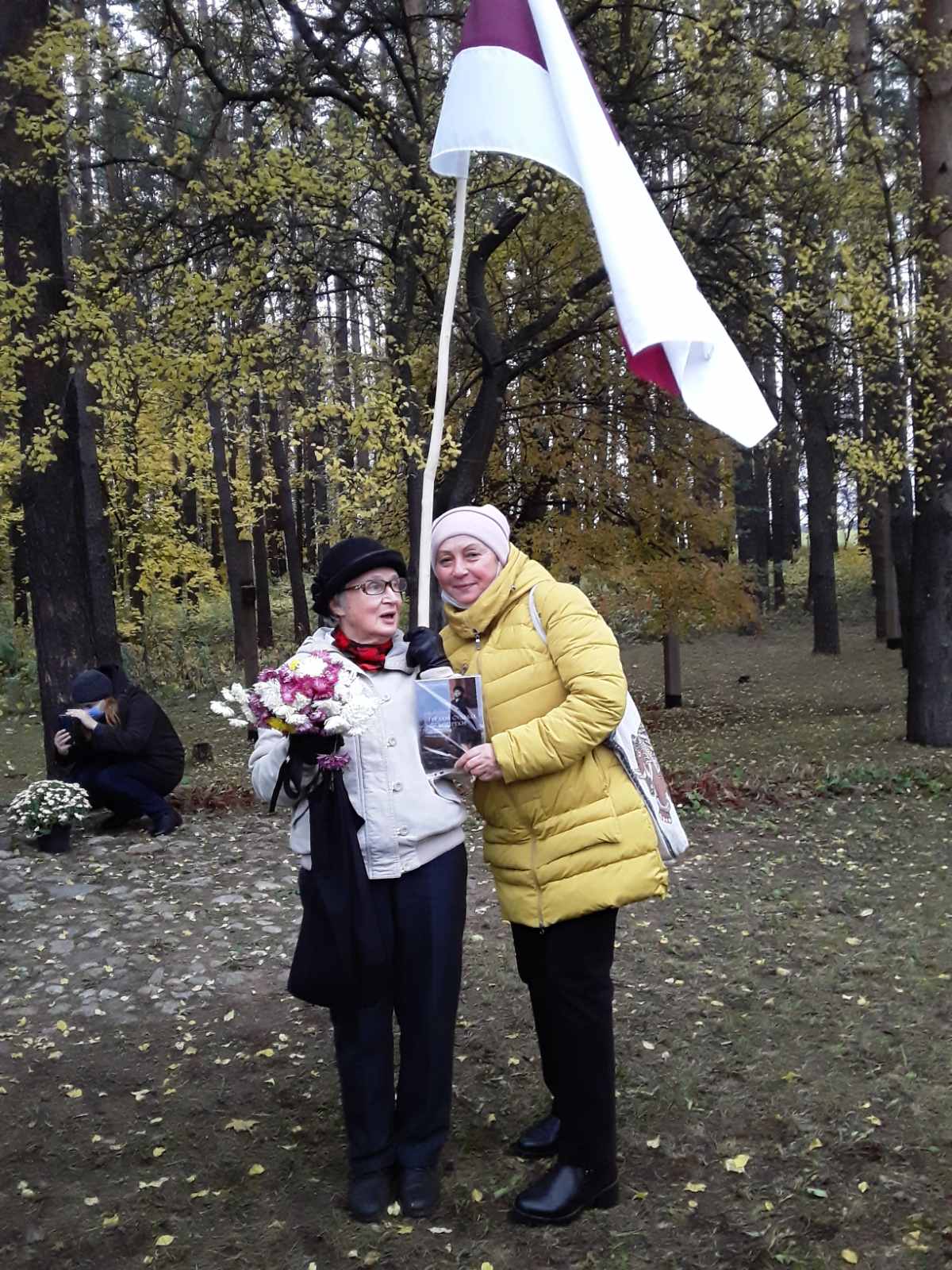 At one of the marches, the woman managed to meet with Nina Bahinskaya, talk and present a book.
- There were many people around Nina, but I managed to get to know her. I also told her that I really want to write about her childhood. But now is such a time that it is impossible to calmly meet and talk to her in person. I think I'll refer to her later. She's a tough nut to crack, a real role model, and most importantly, she finally got the recognition she deserves from people.
At the march on November 8, Mrs. Nina was detained at the intersection of Niamiha and Ramanauskaya Slabada streets, when she was waving white-red-white ribbons to passing cars.
- I was taken to the Maskouski distirct police department. At first they held us in the assembly hall, interrogated, drew up protocols, and at night they put us in a "fishtank", without a toilet, without water. At first there were 12 of us, and then four more people were added. In the morning we were taken to Zhodzina, first we were placed in a four-bed cell, where there were 17 people. For a day and a half there was no food, we slept in turns. There my temperature rose, I felt bad. The trial also took place right in Zhodzina, the judge came from Vileika.
Then I was transferred to an 8-bed cell, where there were 10 people. And when two of them were taken to Minsk, we were able to sleep normally: there were enough mattresses and blankets for everyone. The conditions were difficult, our cell was very cold, because the window did not close completely, there was no warm water.
We were very cold and asked for an extra blanket to cover the hole in the glass. We slept in jackets, hats, hid as best we could. We asked to turn on the battery. But in response we got: "You should have stayed at home!" It was actually quite a common answer. Give me a pill - "You should have stayed at home!" Take me to the shower - "You should have stayed at home!" But in the end they took us to the shower, although, of course, with a great deal of effort on our part: we knocked and knocked, asked and demanded.
The people in the cells were different, constantly changing, because people are given different terms of arrest. Among us were doctors, teachers, and architects - smart, educated and decent people, those who understand very well what is happening in the country. But one Lukashenka's supporter was caught - at least she told us so herself. I even drew attention to this at the trial: "What," I say, "have you already started catching and jailing your cronies?". This woman behaved very calmly, quietly.
On November 20, Mrs. Nina got out of prison and went to the clinic. It turned out that she fell ill with COVID-19, she was hospitalized. On November 25, a trial on the first arrest was supposed to take place, but it was postponed due to illness.
- They can still give me an administrative detention. Moreover, they called me from the migration service asking me to come to them. The fact is that I have Russian citizenship, although I have lived in Belarus all my life. Maybe they will deport me? But I'm not afraid of anything anymore, I will live somewhere in the Smolensk region next to my native country, and I will make a Belarusian passport when everything here changes.