Aliaksandra Ramanouskaya on the letter of pro-government athletes: Who are all these people?
11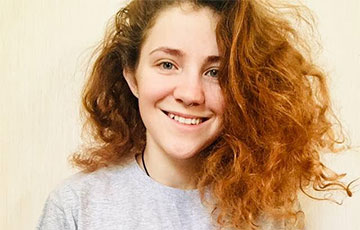 Also, the famous freestyler told how Belarusians support athletes who are in favor of a change.
Last week, the national freestyle team of Belarus once again proved that they are a real team. The head coach Mikalai Kazeka with the team was not allowed to the training camp in Finland, where the World Cup starts on December 4. In response to this, all 11 athletes of the current team, including Alla Tsuper, Aliaksandra Ramanouskaya, Hanna Huskova, signed an open letter supporting Mikalai Ivanavich. All this has occurred against the background of a former member of the Belarusian freestyle team, Olympic champion Anton Kushnir, who is currently coaching the Kazakhstani team, signing the pro-government letter, Tribuna reports.
For two weeks, the Belarusians have been at the training camp in Finland and are working under the guidance of coach Dzmitry Dashchynski. Mikhail Kurlovich is responsible for the preparation of juniors. Tribuna tried to talk to one of the athletes preparing for the World Cup but was refused: "We signed an additional agreement that does not allow to communicate with the press without the permission of the Ministry of Sports." But the world champion and the best athlete of Belarus-2019, Aliaksandra Ramanouskaya, did not put her signature under the additional agreement. She happily talked about how the freestylers' letter was born, the team's life changed after high-profile events, and Anton Kushnir's act was perceived.
- Your name is under the letter in support of Mikalai Kazeka. Tell us how this letter came about.
- Since I have my own work schedule, I do not often see the guys from the team. I can say that I meet with Mikalai Ivanavich more often. When the coach received letters and orders that he should return part of the presidential scholarship, of course, all the guys were very upset. And already before the training camp itself, we learned that Kazeka was not allowed to go to Finland. I learned this directly from Mikalai Ivanavich, and probably a little later than the rest of the guys.
- How did Kazeka present this information to you?
- I don't know how he talked about it at the general meeting because I was not there, but he told me everything quite calmly, without any emotions. He is a wise man, and, as I understand it, he was ready for anything. Therefore, he adequately perceived that he was not allowed to join the training camp. Plus, he needs to resolve his issues with all the letters that officials send him. So he is in Minsk and busy with his own business.
- When did you find out that a letter is being drawn up in support of the coach?
- When I came to the Freestyle Center. Kazeka and I discuss the latest news, learn about changes in each other's lives. And during one of these meetings, Mikalai Ivanavich said that the guys drew up a letter, asked if I wanted to sign it. Naturally, I immediately agreed. It wasn't even up to discussion.
- Who is the initiator of the letter?
- To be honest, I don't know. In any case, I was glad that such an idea appeared and everything was implemented. I am a full-fledged member of the team and was glad to take part in this.
When I read the letter's text, I immediately thought that everything is really relevant, and there should be no questions. Roughly speaking, this letter outlines what each of us from the freestyle team thinks. I don't know who composed the text; maybe, it was done collectively. The letter was sent to the Ministry of Sports a few days ago, but no answer has yet been received as far as I know. However, I hope this is not in vain.
- How did Kazeka react to such an initiative of the team?
- Of course, he is very grateful; he appreciates the support of the team. It seems to me that the fact that we are together, that we care for each other helps us. Everyone in the team is sure that no matter what happens, no one will be left alone. Mikalai Ivanavich understands this too. He will feel more secure, realizing that the whole team is with him; no one will leave him. The letter is an act of solidarity and a confirmation that we are a big family, to put it bluntly.
- The Ministry of Sports recently released a statement refuting the information that you have been fired from the national team. Officials say that you are an employee of the Republican Olympic Training Center and receive the corresponding payments.
- It all looks very funny. This fall, I personally signed the order on my dismissal for "truancy." An order to dismiss me from the ROTC because only a coach can expel me from the national team. It was supposed to come into force on October 16, but then, because I was in the hospital for an operation, I went on sick leave, and according to the law, no one has the right to fire me during sick leave. As I understand it, the order that was supposed to come into force on October 16 is still invalid. I was told upstairs that I would be officially dismissed on the last day of my sick leave. It is difficult to say when it will be, given my condition and rehabilitation.
De jure, the Ministry of Sports is entitled to: I am registered in the ROTC, while on sick leave, I receive the corresponding payment. But when I am talking to you now, I am holding in my hands a copy of my order of dismissal - I brought it on purpose so that they would not make a fool of me. And the document clearly states that October 16 is my last working day. The officials presented the information so that no one fired me from anywhere and is not going to do it at all. It turns out, they fired, and then they make me a liar and an idiot.
- What can you say about the pro-government letter of sports representatives?
- I don't even know how to comment on this. These are such interesting steps: you write a letter to us, we write a letter to you. I am a little surprised that this letter was born and nurtured for so long. It seems to me that since it took so long to compose the letter, they could have come up with something more interesting. But as it is, everyone has already discussed the wording.
For me, this is all strange and incomprehensible. To be honest, I don't even follow the list of signers because I just don't care and don't need it. Yes, I see that some famous persons put their signatures, but it's just ridiculous.
- Deputy Minister of Sports Aliaksandr Baraulia said that the letter had already been signed by 2,500 athletes.
- Do you have a list of all two and a half thousand? No? So I'm wondering who all these people are. And I can also say whatever I want. And even if there are these 2,500 signatures, we perfectly understand how they are obtained. It seems to me that the number of signatures does not really matter here, if it was not done on one's own initiative. And then, excuse me, relatives, and mothers, and fathers, and employees who have nothing to do with sports teams at all sign up. In the networks, I saw that almost all employees of any sports complex, up to the cleaners and watchmen, are required to sign. In this case, this number - 2.5 thousand - does not surprise me. The question is, how many signers are actually active athletes? And the question is, which of them really signed up on their own initiative and consciously.
According to the signatories, the main message is that they can allegedly lose the Olympics if they do not leave their signatures. But this moment has long been discussed by everyone. Nobody is going to deprive anyone of the Games. Yes, and it seems to me that putting your personal participation in the Olympics above what is happening in Belarus is a very flat and very narrow view of the situation and the world in general. I feel sorry for those people whose main goal in life is a trip to the Olympic Games, and not the manifestation of strong human qualities in a situation when it is really necessary.
- The Olympic freestyle champion Anton Kushnir is among the signers of the pro-government letter.
- This is probably the only surname that surprised me a lot. Unfortunately, I cannot judge him somehow. For me, Anton has always been a very good, kind person, almost a mentor at some moments. Therefore, his appearance among the signatories is somehow strange. Moreover, considering that Kushnir is not an active athlete, his participation in the Olympics should not somehow bother him. Honestly, I do not know what the reason for his step was and how everything happened there.
- In the end, let's discuss some good news for you. Your 2019 Universiade gold medal was sold at a charity auction for $ 15,000. Did you expect it to be so valuable?
- To be honest, when I put the award up for auction, I didn't think about any figure at all. It was important for me to make some kind of gesture in support of the Sports Solidarity Fund. I am very glad that my decision has borne such fruit. With a light heart, she parted with the medal, understanding where the proceeds would go.
- Did this figure surprise you?
- I was very pleasantly surprised. It's great that people are ready to support athletes in this way. When I found out the total amount, I experienced joy, surprise, and gratitude at the same time.