BSUIR Student Convicted Six Times, Recognized as a Political Prisoner
12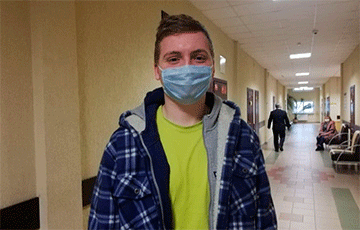 Yan Salanovich was already sentenced to 86 days.
Human rights activists recognized a fourth-year student of the BSUIR Yan Salanovich as a political prisoner.
The guy was detained on November 1 on the march to Kurapaty. As many as six courts passed over him, which sentenced him to 86 days of arrest. According to his mother, under pressure, Salanovich confessed to 15 episodes of participation in peaceful actions, starting in August 2020. There are fears that the guy could be sentenced to longer terms.
Human rights activists consider the practice of several administrative arrests in a row to be vicious and politically motivated. In their opinion, it is used for the sake of pressure and punishment for public activity. They emphasize that Yan Salanovich's sentence corresponds to the arrest under the Criminal Code in terms of its duration.
"Yan Salanovich's detention was used exclusively in connection with his exercise of the freedom of peaceful assembly, expression and dissemination of information, guaranteed both by the Constitution of the Republic of Belarus and by international human rights norms - the International Covenant on Civil and Political Rights, in particular," is said in a statement published by the human rights defenders' website Viasna.
Human rights activists demand to cancel the sentences against Salanovich, stop the administrative cases initiated against him, as well as stop the repression against the participants in peaceful assemblies and release all those who were administratively arrested for participating in them.
The document was signed by the Viasna Human Rights Center, the Human Constant Consulting Center on Current International Practices and Their Implementation in Law, the Belarusian PEN Center, the Legal Initiative NGO, the Belarusian Documentation Center, the Belarusian Helsinki Committee RPOO, the simple society FORB Initiative, Belarusian Association of Journalists NGO.
Salanovich became the 146th political prisoner in Belarus today.