'Tired Of Authorities' Lies About Everything!'
6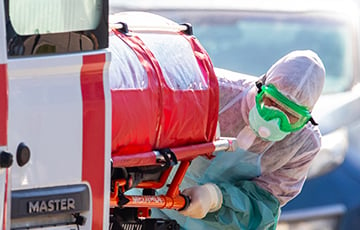 A very serious situation with COVID-19 has developed in Mahiliou.
Readers of the website Charter97.org continue to report on the situation with the coronavirus in Belarus. And it's not the most reassuring.
"I am from Mahiliou," our reader writes. - We are tired of the lies of the authorities about everything! And even about the coronavirus. Among my people, as far as I know, 8 persons are sick with the coronavirus, 4 are in the hospital with moderate and severe pneumonia.
One of my friends' mother died at the age of 51 from coronavirus - she "burned out" in 4 days. She worked as a nurse. The official reason is heart failure. In the summer, my uncle died of bilateral pneumonia - in 3 days he "burned out", and the official cause of death was heart failure.
The Mahiliou Automobile Plant, SSC, Carriage Plant - 1/3 of workers are on sick leave. Many people are in a panic and despair, they do not know what to do. A friend of mine says that his mother works in an X-ray room at the polyclinic, and that every other person has pneumonia there".