"It's Time to Show We Are People". Strong Appeal of Miner on Strike
5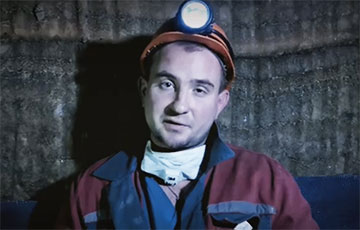 Viktor Gurinovich recorded the video right in the mine.
Another worker of Belaruskali joined the strike, Radio Svaboda reports.
Miners demand the resignation of Lukashenka, new presidential elections, the release of political prisoners and an end to violence.
Underground tractor driver of the 4th mine Viktor Gurinovich published a video appeal recorded in the mine:
"Our homeland is in terrible trouble. And we, its children, found ourselves amidmost the tragedy! The power sector uses repressions against its people, their voice, peaceful protest, the future of our homeland. The country is suffocating in waves of politically motivated illegal persecution. The country is drowning in lies and discrimination against national culture and language.
We are on the verge of a humanitarian disaster: torture, bullying, murder, violence against dissidents and ordinary civilians. This is what happens here every day. Is this a civilized country of the 21st century? Why did it happen? What was the last nail? Why isn't the spring shrinking anymore!?
The only reason is that the population of Belarus is tired of tolerating incompetence, rudeness and inadequacy of illegitimate power, which serves only tough pressure and aggression instead of a dialogue. It is time to remind that we are not a bunch of simpletons, we are people.
For the third decade, we have been silenced. We were scared. And now we are still scared. It will be common for us in future as well. Only a sick person feels no fear. But we can't remain silent anymore. I see only one peaceful way to fight for my rights - to join the national strike and support the Belaruskali strike.
Long Live Belarus! Belarusians should be and remain humans!", said Viktor Gurinovich.
The strike committee of Soligorsk Belaruskali informs the number of strikers at the enterprise is growing. Following people joined on November 30 the political demands, including the resignation of Lukashenka and the new presidential elections:
Antonina Vyukhina, operator of petrol stations of the 3rd mine group,
Alexander Makoed, wireman of the 4th mine group,
Andrei Batuev, a mining machine operator at the 3rd mine group.
The total number of people on strike at Belaruskali is about to reach 100.