A Businessman and Political Prisoner Vasilevich Has a Daughter
2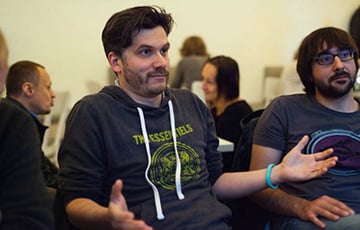 He is still in jail.
Aliaksandr Vasilevich, who owns the advertising agency Vondel / Hepta, the websites kyky.org and The Village Belarus, was detained on August 27 and placed in jail No. 1. It was reported that his wife Nadzeya Zeliankova was also involved in the criminal case, and, at that time, she was on the seventh month of pregnancy. Today she gave birth to a daughter, and Aliaksandr is still in custody, tut.by writes.
Nadzeya announced the joyful news about the birth of her daughter in social networks. The girl was named Urshulia. The family also has an older daughter.