"Kommersant: Putin Asked Lukashenka Not to Stall Resignation"
96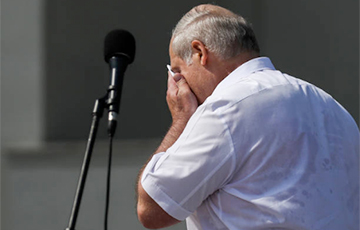 It sounded like a sentence for the usurper's authorities.
Andrei Kolesnikov, a journalist for Putin's Pool, described in details the online meeting of CSTO leaders and Lukashenka's dialogue with the head of the Russian Federation in an article for the Kommersant newspaper.
- To begin with, Aliaksandr Lukashenka focused on reflection on his crucial role in the confrontation with NATO on the western borders of the CSTO, writes Kolesnikov.
Then, Lukashenka unexpectedly described the months-long protests against him in his (as he thinks) country:
"In turn, the pandemic has not only complicated the problems of international cooperation but has also provoked an escalation of social conflicts. We are talking about unprecedented mass disturbances all over the world!"
The unrest in Minsk is of the same pandemic nature," says Kolesnikov ironically and continues to quote Lukashenka:
"A universal balance between civil liberties and national security interests has never been found in Western society. This is the reason for the increasingly unceremonious imposition of double standards on international public consciousness. ... The measures taken by other countries to ensure stable development, maintain law and order and the rule of law are presented as dictatorship and despotism, although these measures are less aggressive than their own.
For some reason, Aliaksandr Lukashenka still finds it difficult to admit that the Belarusian people do not accept him due to, one might say, deeply personal reasons and maybe even would have tolerated him again. However, the events of August 9-12," writes Kolesnikov.
Putin, the journalist notes, "was careful. He did not support Aliaksandr Lukashenka's fight with the people, "easily agreed with blatant behaviour" of Western countries: yes, this is his topic".
"What is disturbing is the interference from outside: financial support, information support, political support and so on. We should give people a chance, after all, to deal with the issues that are of particular interest to them. We could see the developments in the Arab world during the so-called Arab Spring, for example. What did it bring? To say nothing of all the other "coloured revolutions". What did it bring? It is known that one always explains it with good intentions. As you know, the road to hell is paved with good intentions. That's what these good intentions and attempts and interference in the internal affairs of other countries bring!" Putin said.
- But the phrase " We should give people a chance to deal with the issues that are of particular interest to them". This is the verdict for Aliaksandr Lukashenka's authorities in Belarus," said Kolesnikov.
Putin expressed his thought even more clearly:
- I do hope that the Belarusian people will be politically mature enough to build a dialogue with all political forces and resolve all their internal issues by themselves, without any pressure and external interference. I have no doubts that this will work out".
That is, he once again offered him not to stall the resignation," writes Kolesnikov.