"Almost Half of the KGB Employees Did Not Pass the Test for Loyalty"
63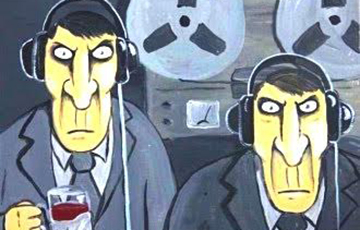 The system continues to shake due to new leaks.
The Nick and Mike Telegram channel claims that the authorities went so far in their paranoia that they tested the KGB officers on a polygraph.
"Earlier, it was reported that after the first wave of protests, the system decided to filter the security forces for loyalty. Lists of signatories for the nomination of Babarykao and other incorrect candidates were digitized. Even then, there was no limit to the surprise. Many security officials turned out to be, so to speak, unreliable. Some were fired, others were interviewed.
But the KGB decided to go further. Now, when passing a polygraph, employees are asked a direct question: "Did you vote for Lukashenka in the elections?" The question is so direct that it overwhelms even those who voted against everyone.
Now the committee has a different problem. Almost half of the employees did not pass the loyalty test. And so far, no one knows what to do with this knowledge. On the one hand, Lukashenka demands loyalty, which means everyone must be fired because the leaks continue to pour as if from a sieve. On the other hand, who will work then? The personnel situation is not the best now. There is simply nowhere to take other people.
So they live, each time shaking due to new leaks," writes the Telegram channel.