"I Thought I Was Going to Die"
190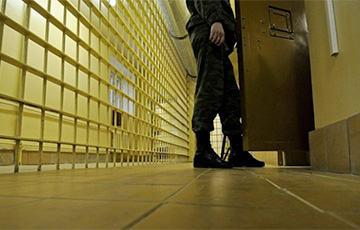 The Belarusian woman spoke about the brutal rape by Lukashenka's security forces so that the world could hear her.
Since August, the security forces continue to torture Belarusians, and the authorities deny it. Several hundred stories of severe beatings and other bullying that Belarusians have suffered from the security forces over the past 4 months are already known. The Swedish edition of the ETC published the story of a Belarusian who was brutally raped with a baton in an isolation ward - the heroine provided the editorial board with medical documents confirming her story's truthfulness. The publication does not give the girl's real name, the date of the incident, and the specific place, but, from the story, it is clear that this happened after August 9-11, during the period of Sunday marches. The heroine emphasizes that she tells her story so that the whole world can hear it. The Village Belarus publishes its translation.
Krystsina asked me to write this text. This is her testimony, a story about what she was subjected to in prison in Minsk, Belarus, after being taken to a cell by three AMAP officers of dictator Aliaksandr Lukashenka.
She told me about how she was raped. Her story's details are so harsh, so surreal, so confusing that I had to ask her to show her medical record. Is that really true? She sent it; I translated the documents and found that there was no embellishment in her story.
In fact, all this is true.
A gynecologist who specializes in repairing damaged genitals tells me that the kind of trauma Krystsina suffered is usually seen in women from conflict zones where sexual violence is used to terrorize civilians, such as in the Democratic Republic of Congo.
Kristina will need urgent surgery, which will be followed by a long rehabilitation period. She cannot control her intestines; everything just flows out of her. She doesn't know if she will ever be able to have children. She only has five teeth left.
This is what Lukashenka's AMAP did to her.
Krystsina wants to tell the whole world what happened, she says. She hopes that this is a chance to stir up the public, which has calmed down and has become quite passive after the condemnation of the international community and the sanctions imposed.
She wants to tell her story, even if it means she'll have to relive it all over again because she does it anyway when she's awake and when she tries to sleep. An old table is constantly in front of her eyes, on which she was laid. First on the stomach, then on the back. She also sees their empty eyes through black balaclavas.
"They looked like they were just waiting for the bus," she says.
Kristina is one of many who raised her voice against Lukashenka's attempt to steal the country's recent presidential elections. She did not hesitate to join the protests and did not stop when it became clear that both the AMAP and the security forces were ordered to suppress the peaceful uprising by any means possible. She knew it could get her into trouble, but she didn't hesitate.
"I thought there was a risk that I might be attacked," says Krystsina, who has to speak slowly so that the interlocutor can make out her words. In the end, the person's voice changes after 25 teeth were crushed with a truncheon, beating it into his mouth several times with all his might.
She was detained and locked up together with two friends in one of the AMAP cars. Others by that time were already in these cages. She was punched several times, and others were kicked, which was quite expected for her. Krystsina was scared, but she felt calmer, knowing that she was not alone, that there were other protesters around who could see and hear what was happening.
She says it was like a ritual, a way to teach them a lesson. She expected to have to endure only a few hours of abuse, and then, when the wounds and bruises healed, they will take to the streets again on the weekend. But that didn't happen.
Her friends got off easy compared to Krystsina, in the sense that they were able to get out of there safe and sound. Krystsina was released from prison with internal bleeding and such severe pain that, according to her, she had never experienced before.
Why was she singled out?
Krystsina doesn't know. She is not an organizer; she is not active in any political group; she is just someone, no one. Maybe that's why, she says. Because if it can happen to anyone, it means that everyone must take that risk into account.
Krystsina is convinced that the security forces followed the plan.
"They were completely calm when they came for me into the corridor; they let me say a few words to my friends. They only slightly held my hand as they led me into the cell. They were quiet but not aggressive. I thought they were taking me there just to ask a few questions."
She remembers that the cell or interrogation room was about five by five meters, and fluorescent lamps were burning on the ceiling. There were no windows.
As soon as the door is closed, and they began a methodical rape.
Anus, vagina, mouth. They used truncheons. At first, she thought they were going to hit her in the back, and maybe in the legs. Instead, they pulled off her pants.
She screamed and begged. She told where she was born, what she studied at the university, and what football team she supports - everything that she could think of to find a common language with one of the men.
But they continued without a word, even to each other.
"I thought I was going to die. I felt that what they were doing to me would kill me; no one can survive something like that. They looked like machines, not people."
She then fainted, then came to, but woke up when the security forces broke her teeth, pushing the baton into her mouth. She saw them on the floor - white spots in a red pool of blood.
Krystsina was taken out of prison. She tried to walk but fell. The civilians took her to a hospital, where she underwent emergency surgery and a blood transfusion. In the end, her parents took her away. She is with them now, mostly bedridden, exhausted from heavy painkillers.
Krystsina's real name is not Krystsina.
"They won't be able to identify me. I'm hardly the only woman who was raped by AMAP or even the regular police. People who bullied me have done the same before."
It looks like it. Human Rights Watch has documented systematic abuse and torture, as well as rape, which both men and women say were threatened and - in at least one case - subjected to Belarusian security forces.
"I can declare with full responsibility that not a single fact of rape by police officers has been established," said the first deputy minister of internal affairs of Belarus.
Krystsina knows the truth.
The life she had is now ruined.
She says she wants to do everything in her power to help bring down Lukashenka's regime. She loves her country, loves Belarus, and calls herself a patriot. But she wants to run as far as possible. Away from Lukashenka, away from Minsk, away from this camera.
"I need to leave the country. I cannot get the medical care I need here and am afraid that they will come back for me."
I ask her how she wants to end her message to the world.
- Help us get rid of the one who rapes his own people.