'Naftan' Employee: Evil Will Not Last Long, Since There Are So Many Bright People In Belarus
11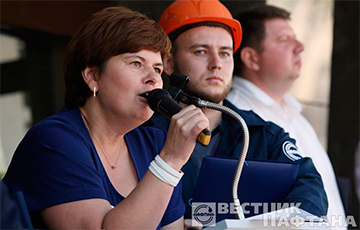 The best specialists at the enterprise go on strike.
According to Volha Brytsikava, who headed the oil products sales department before her dismissal, it will not be possible to find strikebreakers, Solidarity writes.
On Friday, Andrei Shkirenka, the operator of the Polymir plant, refused to go on shift. He has worked at the enterprise for 30 years, and ended his strike announcement with the words "Long live Belarus!"
- Considering my education, I perfectly understand what is happening, and cannot turn a blind eye to the legal chaos that is happening in the country in general and at Naftan in particular.
By their actions, the management of the enterprise deliberately jeopardizes the uninterrupted and trouble-free operation of the production, - says the legal adviser of OJSC "Naftan" Aliaksandr Kapshul, who has worked in one place for 20 years.
Operator of technological units Siarhei Skiba has more than 17 years of work experience.
Locksmith Mikalai Zeliankevich has been involved in emergency and recovery work for more than seven years.
- I believe that incredible Belarusians will definitely win! - Lyudmila Kalyada, who had worked for more than 10 years at the OJSC "Polatsk-Steklovolokno", joined the national strike with such a mood.
Aleh Kuntsevich, the operator of technological units of OJSC Naftan (17 years of work at the enterprise), also supported his colleagues. He demands to end the persecution of workers with an active civil position.
On the eve it became known that activist Volha Brytsikava has been dismissed from OJSC Naftan.
- I was on a sick leave for a long time, I went to work on December 2 and was fired on December 3. I understood that it would be inevitable for me, the only question was, with what wording I would be fired. There have been many attempts to charge me with some kind of violation of labor discipline. But they stopped at "denying access to state secrets," which became a formal reason, - said Volha.
She says that pressure is exerted on all people with an active civil position at the enterprise, and that the very atmosphere within the team forces people to protest.
- In addition to the situation in the country, which worries everyone now, there is also a local situation at each enterprise. And at many, it encourages people to leave. Because they are under tremendous pressure.
After all, people, especially from small towns, have little besides work. This is a big part of their life. But now the attitude towards those professionals who worked for years and were held in high esteem has changed dramatically for the fact that they showed their civil position, joined an independent trade union, or spoke in the video.
And this is already happening not somewhere in Minsk, but here at your own enterprise. We all saw each other in Navapolatsk, and we know many.
And even if not everyone is under pressure, many people experience discomfort from the atmosphere in the team. Recently there was a subbotnik. Although this is a voluntary matter, the recommended amount was brought to us - 5 rubles from a worker and 10 from a manager. Half of the statements that I saw were with dashes, people refused to hand over money or handed over a few kapeykas. This is how the people expressed their attitude, - said the activist.
She commented on her colleagues joining the strike.
- Washing out people with experience, knowledge will negatively affect the enterprise. It's unavoidable. Now it should be borne in mind that a very large number of employees are on sick leave with coronavirus, and not only at Naftan, so it will not be possible to find strikebreakers here," says Brytsikava.
She herself does not exclude that she will appeal the decision on her dismissal. So far, this decision is the only one that has been made public. The rest of about 20 Naftan employees who went on strike did not receive their work books.
Volha Brytsikava did not join the strike, but actively expressed her position.
- And I will continue to do it! I understand that with so many bright people in Belarus, evil will not last long. The question is: "calm down or do something" - and we have answered this question to ourselves, we will not calm down! - assured the interlocutor.