Sviatlana Aleksievich: A Million of Us Should Go Out on the Street
40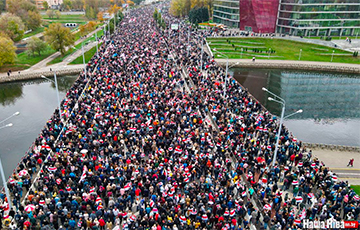 A dialogue with a dictator is impossible.
The Nobel laureate declared that dialogue with the dictator is impossible.
"I think that it's possible with Lukashenka, no," Sviatlana Aleksievich said on Echo of Moscow. "Well, what constitution can be made under his leadership? After so many people have been humiliated, when so many have been crippled, and the country has turned into some kind of military camp, how can you believe the person who did this all that he will make a democratic Constitution?
Of course not. I think that in the spring, probably (maybe earlier), there will simply be an explosion. This is now an accumulation.
I hope that Belarusians will not be at war. I wouldn't want blood. But I hope that a million will take to the streets. There should be a million of us on the streets."