"Each of Us Could Become Krystsina": A Powerful Action in Gorky Park
5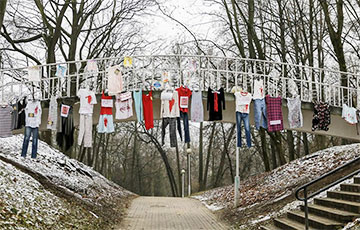 The women of Minsk spoke out against the violence and lawlessness of the punishers.
Women's clothing with red spots and sewn yellow stars have appeared on the railing of a bridge in Minsk's Gorky Park, reports the Basta! Telegram channel.
"We are beaten, given 24 hours of imprisonment and huge fines, but we still exist. We have become invisible, but we are still the majority.
Women in Minsk speak out against the violence and lawlessness of punishers. We are afraid that each of us may become or has already become the next Krystsina, but we have enough courage to fight for our vote and defend our dignity!" the organizers of the action say.
Recall that the other day the Swedish portal ETC.se. published a terrible story about the rape of a Belarusian woman Krystsina by Lukashenka's security forces (journalists hid her under this pseudonym).