Yury Harauski: I Wouldn't Have Survived In Belarus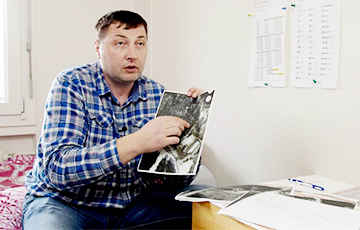 The former SOBR fighter does not believe Lukashenka that "no one will lay a finger on him" in Belarus.
Former fighter of Special Police Unit Yury Harauski has again appeared in the Deutsche Welle news. He went abroad in autumn 2018, and at the end of last year said that he was a member of the Belarusian "death squad", participated in the killings of opposition politicians in 1999. After the interview with Harauski, the Investigative Committee of Belarus resumed the investigation into the disappearance of Yury Zakharanka, Viktar Hanchar and Anatol Krasouski. At first the runaway did not name the country where he applied for political asylum. Now he says he sees no reason to hide his location further: he's in Switzerland. By the way, he underwent surgery in this country at public expense - in Belarus, the man got into an accident, which he considers an attempt.
"They may come and kill, they may not come... - Yury Harauski says on the air of DW. - There are chances to survive here. I wouldn't have survived in Belarus. And no matter what the "president" said in an interview to Echo of Moscow, that "let him come and testify, no one would lay a finger on him here," they would lay it. Right on the border, they would do something. And it's not a fact that I would manage to reach Minsk, the capital".
DW announces the continuation of the story with Harauski and the disappearances of opposition politicians in Belarus. The new story will appear next Monday.