Lukashenka Asked Putin About Publications In Telegram Channels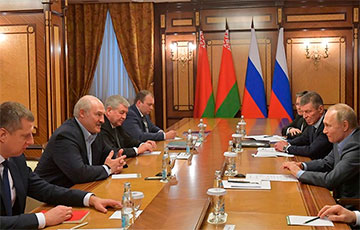 The dictator reported on the response of the Russian authorities to the question about the messenger.
At the meeting with heads of state mass media, Aliaksandr Lukashenka said that at his recent meeting with Vladimir Putin in Sochi, he had also discussed publications about Belarus in a number of Russian media and Telegram channels. BelTA writes about it.
He said he had recently asked his press secretary to prepare a selection of the latest publications in the Russian media - in the major and small ones, as well as in Telegram-channels.
"Behind which there are concrete people who are in power. For when I talk (not only about oil, gas, nuclear power plant, money), I'm constantly discussing media issues, - Lukashenka said. - It is very important for our society today, including the Russian one. We will protect our society here. But today we are trading with the Russian Federation. And then what does information attacks on poor quality of goods from Belarus, especially foodstuffs, mean? It alarms people".
Lukashenka noted that he had discussed this issue with Vladimir Putin:
"He says: you know, the country is big... The last time we met with Medvedev and Putin, the three of us touched upon these topics. He says: this is not us. I say: how is it "not us", when there is this or that person behind this channel? And I give names of well-known people who hate us or start to misrepresent something about us for money".