Amnesty International: Belarus Has Serious Problems With Human Rights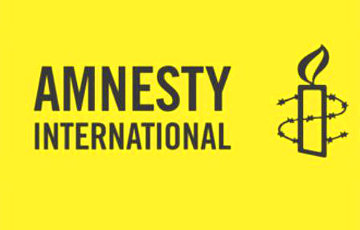 Human rights defenders have prepared a report for the UN.
The Amnesty International report is called "Belarus: Serious Problems with Human Rights Remain". Human rights defenders are concerned about the death penalty and inhuman treatment of the families of those sentenced to death, as well as the constant failure of the Belarusian authorities to comply with their obligations to respect human rights in accordance with international standards.
The Charter97.org website presents excerpts from the document.
About the death penalty: "Belarus remains the only country in Europe and on the territory of the former Soviet Union where prisoners are executed. Death sentences are carried out in secrecy. Relatives are not given the possibility of the last meeting. The place and time of execution are not reported, and relatives are not given the bodies for funerals, the place of burial is not disclosed".
On freedom of speech: "Freedom of speech in Belarus is still severely restricted both in law and in practice. Critics of the current authorities and dissenters who try to exercise this right face persecution and reprisals from the authorities, including administrative and criminal proceedings.
Amendments to the media law have significantly increased the state's control over media on the Internet. Registered and unregistered online publications are now obliged to record the names of people who leave comments, for example, under the news on Internet forums (thereby infringing on the right to anonymity) and to disclose relevant information to the authorities upon request.
The owners of registered online publications are now legally responsible for the content of comments. This encourages censorship, which limits open discussion and freedom of speech".
About disproportionate punishment for drug trafficking: "Thousands of adolescents and young people are serving long prison sentences for alleged minor non-violent drug offenses committed while they were still underage".
A separate section focuses on excessive and extreme restrictions on the right to freedom of peaceful assembly. Blogger and activist of the European Belarus civil campaign Dzmitry Kazlou and opposition politician Pavel Seviarynets have been sentenced to several consecutive terms of administrative arrest, human rights activists remind us.
The document describes the persecution of anarchist activist Dzmitry Paliyenka, as well as discrimination against Roma.
Amnesty International's report was prepared for the Universal Periodic Review, a mechanism of the UN Human Rights Council, which assesses the activities of states in the field of human rights and takes necessary measures to address human rights violations around the world.
Universal Periodic Reviews of the fulfilment of human rights obligations and commitments by the 193 Member States of the UN are held every four years.
In addition to describing the human rights situation in Belarus, Amnesty International's report makes recommendations to the Belarusian authorities and analyzes Belarus' compliance with or disregard for the recommendations of the previous review.