Lukashenka Decided To Change His "Coat Of Arms"
108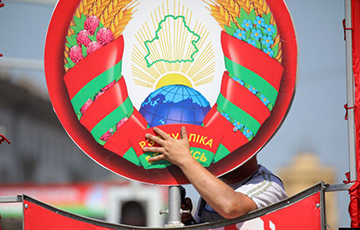 The heraldic council was working on the changes.
The authorities have decided to change the "state emblem". To make it "more modern", they will add golden color, and the star will be made "less militaristic".
The bill has been drafted by the Justice Ministry, svaboda.org reports. The changes have been called "technical". The heraldic council under Lukashenka has dealt with them.
The image of the star has been corrected in the upper part of the coat of arms: it is represented in a flat version with contouring, the edges of the rays now have a slight slope. This has been done in order to make the image of the "coat of arms" more voluminous.
The image of the stylized contour of the state territory, the image of clover and flax plant were also improved. The artistic design of the ribbon with the inscription "Republic of Belarus" will be more accurate.
"The citizens were the ones who proposed to change the facets of the star, as in the previous version the facets were very sharp, and there was some militaristic character similar to that of a military star. So, we stepped away from it and the star has become more voluminous. And also many people did not like the meridian lines, so they became lighter," - the press service says.
The exact terms of replacing the old coat of arms with an updated one have not yet been determined.
We remind that the current version of the official coat of arms was adopted at the so-called "referendum" on May 14, 1995, which was illegal.