Another Mystery Of Negotiations In Sochi: Who Earns On Russian Fish For Belarus?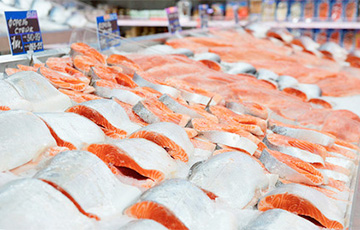 In addition to oil and gas, Minsk and Moscow were discussing quotas for fishing in the Baltic and Barents Seas.
The Russian edition of Forbes reported that in addition to oil and gas, Belarus could seek for an increase in fishing quotas in the Baltic and Barents Seas at the talks in Sochi.
The price of the issue from 2005 to 2019 is about $200 million. This is how much Belarusian enterprises have earned from fishing in the Russian water area. According to the publication, Russia gets nothing in return. Although it was originally planned that the Belarusian and Russian enterprises would invest in the development of infrastructure for packaging and processing of fish in Russia.
Every year Belarus fully uses the catch quotas and seeks their increase. Over 10 years, the Belarusian take has increased from $8.9 million to $16 million, with a peak of $38 million in 2017. At the same time, according to Forbes, "the cooperation has been reduced to providing gratuitous quotas for its further sale to the EU countries in the form of raw materials". That is, the caught fish does not go to Belarus, but is sold in the markets of European countries.
Such Belarusian enterprises as JSC Belryba and LLC Belarusian-German enterprise Santa Bremar are engaged in catching fish through their subsidiaries in Russia.
According to the Russian edition, Belarus intends to catch about 5,400 tons of fish in 2020 and wants to increase the quota.