Viasna Prepares Documents To Declare Anarchists Political Prisoners
8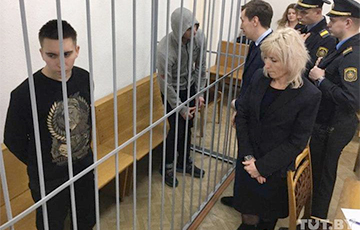 There is a clear political motive in this case.
Valiantsin Stsefanovich, vice president of the International Federation for Human Rights (FIDH) in Europe and Central Asia and Viasna human rights activist, said that to Charter97.org commenting on the sentence imposed on anarchist activists Ivan Komar and Mikita Yameljanau:
- We consider this verdict as absolutely disproportionate and inadequate to the offence that these young people were charged with and finally found guilty of. The damage from their actions was minimal. A ruble with something for the damage the detention facility gate. The episode with the Minsk city court, which was qualified as damage to property, also did not pose any public danger.
The facade was spoilt with paint, which was soon painted over and the damage was compensated by the young people. On the one hand, we cannot say that we are talking about the exercise of the right to freedom of expression as guaranteed by the Covenant, because it provides for a number of restrictions - including those for public security needs. On the other hand, evaluating the sentence as a whole, we believe that there is a political motive precisely because the sentence is clearly disproportionate.
It is not excluded that the trial was purely demonstrative due to the forthcoming presidential elections.
The year is beginning rather alarming. The wave of endless trials for demonstrations against "deep integration", which took place in December, has only have ebbed. Now we actually have new political prisoners. Literally today we, the human rights center Viasna, will prepare a statement on this issue.
We will recognize them as political prisoners, demanding a review of court decisions and elimination of the grounds for disproportionate sentences. We believe that in this case the court could have passed a non-custodial sentence, but unfortunately, the court listened to the prosecutor's opinion. We believe that there is a political motive for this, it was a demonstrative trial to make an example of an offender. We demand that the Minsk City Court and the courts in general take measures to revise this sentence.