Belarusians Laugh At "Tobacco Boxes" In Social Networks
14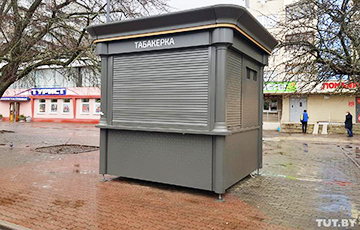 People reacted strongly to the news that these kiosks will sell travel tickets.
After the news that the Minsktrans kiosks will be replaced by "Tobacco Boxes" and they will sell fare tickets, people started joking in social networks, tut.by writes. And what else do you think could be sold in such kiosks?
We remind that the other day, the Minsktrans management announced that their network of kiosks would be reduced. By the end of the year, there will be about 25 outlets, of which 10 are the Minsktrans ticket offices in underground passages of subway stations.
Tickets for public transport are already available in "Tobacco Boxes". The question is being considered not only to sell single tickets there, but also to replenish travel contactless smart cards.
People reacted actively to the news in social networks and started joking about the best places for "Tobacco Boxes" and the things they should sell there.
Аўта_«Табакерка»_зак

via Максим Деревнюк pic.twitter.com/9p6vJ8rQpM

— Тэлеканал Белсат (@Belsat_TV) February 13, 2020
Табакерка is new Евроопт

— Трэцяя лінія (@metro_3d_line) February 15, 2020
сацыяльны кантракт перагледжаны і, ў выніку, дапоўнены. цяпер гэта чарка, шкварка, табакерка.

— Юра (@yurzmg) February 15, 2020
Вы будете удивлены, но это карта табакерок Минска: pic.twitter.com/8NjWLIiSSt

— Pardon My Estonian (@Paznjak) February 18, 2020
смешновато pic.twitter.com/fKqHcN7yoQ

— Мінскае метро (@MinskMetroNet) February 15, 2020
Городские поликлиники решили убрать. Медицинское обслуживание населения будет проходить в "Табакерках".

— танцующие руины (@daphnis_nerii) February 14, 2020
В скором времени в "Табакерках" можно будет оплатить коммунальные услуги и положить 5 рублей на мобильный телефон

— Evgeny Kriskévich (@EKriskevich) February 14, 2020
(function() {
VK.Widgets.Post("vk_post_-82476651_436733", -82476651, 436733, '4ke4HR8l_r5sxa-aJAxHACuq5IU');
}());