Piatras Astravičius: Belarusian NPP Poses Threat Near Lithuanian Borders
4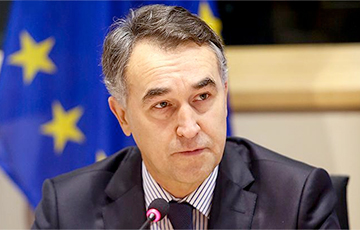 Today, the slogan "for our security and yours" has become relevant for Lithuanians and Belarusians.
MEP from Lithuania Piatras Austravičius spoke during the first congress of the Movement Against the Astravets NPP. In his speech, the MEP from Lithuania called the Belarusian NPP a new threat near the borders of Lithuania, a Charter97.org correspondent in Vilnius reports.
Piatras Austravičius spoke about the declaration of the movement, in which its goals are indicated. The main one is to shut down the Astravets NPP. "This station is unsafe and poses a threat to human lives," said the Lithuanian MEP. In the declaration, the movement also indicates that the BelNPP is a challenge to the European Union and its security, so the EU must respond and take concrete actions against the Russian and Belarusian offices involved in the construction of the Astravets NPP. Another goal of the movement is to achieve a legislative ban on electricity imports from the BelNPP to the markets of the EU countries.
"Lithuania needs to take preventive measures to compensate for the damage that the station may cause. These legal decisions must be taken now," added Piatras Austravičius.
The member of the European Parliament from Lithuania recalled the times of the Grand Duchy of Lithuania, which united the territories of modern Lithuania and Belarus. "There was a slogan in the GDL: "for our freedom and yours". Now this slogan takes a different meaning - for our security and yours ," said Austravičius. On February 15, the first congress of the Movement against the Astravets NPP was held in the Sejm of Lithuania. During the congress, the text of the petition to the European Parliament was approved, the collection of signatures under which will continue until April 20. On April 26 - the anniversary of the explosion at the Chernobyl nuclear power plant - a petition will be presented to the European Parliament.