Belarus Sells Homselmash, Haryzont And 11 Other Enterprises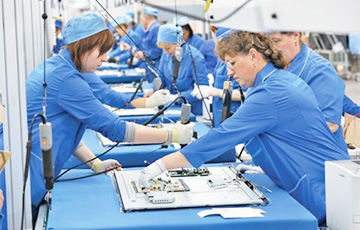 Major plants and enterprises have been included in the privatisation list for 2020.
The state has included 13 enterprises, including significant plants, on the list of those proposed for privatisation in 2020, naviny.by writes.
Head of the State Property Committee Andrei Hayeu noted at a press conference in Minsk on February 20 that the list had already been made.
"The list has already been made. The work is done every year. I want to emphasize that this is not a privatization plan. We have no planned privatization in our country. These are preliminary proposals of the republican governing bodies, a list that allows potential investors to see what this or that ministry, owner supervision body is offering and under what conditions. The conditions are preliminary," - Hayeu said.
He named such large enterprises as Haryzont, Homselmash and Kalinka.
"The work continues, as a number of ministries have not yet submitted their proposals. We expect that this list will be expanded in March. We encourage our business unions to make proposals, if a business has a desire to acquire a particular state asset, then the State Property Committee will work on this issue," - Hayeu said.
At the same time, he noted that in 2019 only one of the major privatization deals can be named - the purchase of JSC Savushkin Pradukt of the Baranavichy Dairy Plant. Only 11 blocks of shares were sold through the Belarusian Currency and Stock Exchange last year, including two national-level shares and three blocks of shares of communal property.
"The sale of shares, owned by utility companies, passed through the exchange for the first time. The relevant changes were made in the legislative framework. Today it is possible, the process has begun, and in 2020 regional executive committees are already conducting preparatory work on the exhibition of minority stakes," - Hayeu said.
Also, four blocks of local shares were sold through auctions and tenders, while one unitary enterprise was corporatized.
According to him, the work on the draft presidential decree on the sale of minority stakes in five JSCs of the republican level is being completed.
"Why only five? We're talking about stakes of less than 25%. There are few such enterprises, some of them are in the process of reorganization, some are in the process of liquidation, the labor collectives do not give permission to sell these shares at some of them," - the head of the committee explained.
The draft decree will have been submitted to the Council of Ministers for approval by March.